The Great Myanmar Journey
This guided journey brings you to experience Myanmar's most famous sights, starting from the capital, Yangon (Rangoon), which was constructed by the British administration. Here, we will visit the magnificent Shwedagon Pagoda, decorated with gold plate and gemstones, stroll through Yangon's old quarter and take in the sights and sounds of the bustling city.
Next, we will then head north to the Ancient Kingdom of Bagan, arguably Myanmar's greatest archaeological treasure, located on the Bagan plains by the Irrawaddy river with over 4,000 pagodas and temple ruins. During its heyday, Bagan was one of the great kingdoms of the world and remains a magical destination. From Bagan, we will then travel to Mandalay City and the Ancient Capitals of Myanmar (Burma) nearby. We'll explore the AVA kingdom ruins by horse carriage while enjoying vistas from the Ubein teak bridge that is known for its spectacular sunsets.
After Mandalay, we will journey to the rural Shan State and visit the minority peoples of the Inle Lake region. In Shan State, we will visit markets, floating gardens, and experience cultural highlights on and around the lake. Heading south of Shan State, we will conclude our tour with a visit to the Golden Rock (Kyaikthiyo) — one of Myanmar's holy pilgrimage sites, which is a gold-leaf-covered boulder shrine that defies gravity, as it balances on the edge of a cliff. Pilgrims from all over Myanmar and Asia dream of visiting Kyaikthiyo at least once in a lifetime.
Day 1 : Arrive in Yangon
Upon your arrival, we will welcome you at the Yangon Airport and transfer you to your hotel for check-in.
After a short breather, we will visit a few of Yangon's highlights, including the Chauk That Gyi pagoda with it's marvelous reclining Buddha and the Karaweik Hall with its unique decorated hamsa bird-shaped floating barge on the Kandawgyi Lake.
We will conclude Day-1 beholding a spectacular monument and iconic symbol of Myanmar — the Shwedagon Pagoda and its gold-covered dome that dominates the city's skyline.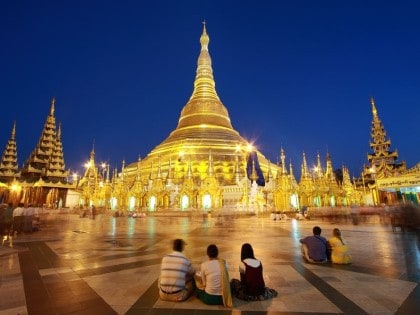 Included : Overnight stay: Hotel in Yangon, City Tour & English Speaking Guide
Day 2 : Yangon heritage walk & flight to Bagan
Our quest to explore the highlights of Yangon continues after breakfast. We'll start the exploration in the colonial-era city center and an over 2,000-year-old landmark, the Sule Paya Stupa, the focal point of various historic events in the city's history.
From here, we'll continue on foot to explore the British colonial era Yangon Old Quarter with its charming buildings, going through the bustling market streets with interesting merchants and food stalls. We'll also learn about Myanmar's traditional medicine at a local pharmacy, and then enjoy tea and snacks like the locals while doing some quality people-watching.
Next, we'll continue onward to the Strand Hotel, a truly Asian landmark built by the Sarkies brothers that's home to the River Art Gallery. Here, we'll get to appreciate the works of famous Burmese artists before continuing to the bustling Bogyoke Market, which is packed with hundreds of gemstones, handicrafts, clothes, art and food stores. However, the market is closed on Mondays and Public Holidays.
After lunch, we will head to the airport for a one-hour flight to Nyaung U Bagan and then be transferred to our Bagan accommodation.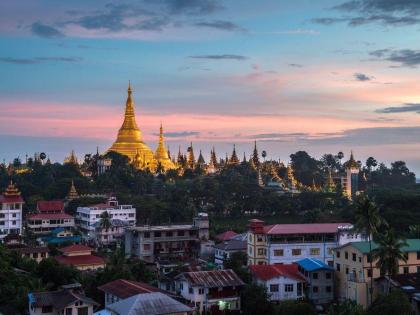 Included : Overnight stay: Hotel in Bagan, Tours & Flight Ticket Yangon – Bagan
Meals : Breakfast
Day 3 : Bagan Temples
After breakfast, our day in Bagan begins with a journey to the Ancient Kingdoms of Bagan. We first visit the Dhamayazeka Zedi, which provides panoramic views to the plains of Bagan that are dotted with temples.
Next, we will visit the gilded Swezigon Stupa at the Archaeological Museum that is rumoured to contain a holy relic – the tooth of Buddha. A short distance away, we'll also visit the Myngaba Gu Byaukgyi Temple that showcases the mural paintings of the Buddha's Jataka reincarnations.
At the Myingaba Village, we will learn about Bagan's famous lacquer ware crafts, and at the Htilominlo Temple, we will learn about Burmese sand paintings. We will wrap up our day of temple tours with a visit to the symmetric Ananda Temple with its four standing Buddhas that seem to gaze at the viewer with fixed serenity, regardless of the viewer's position.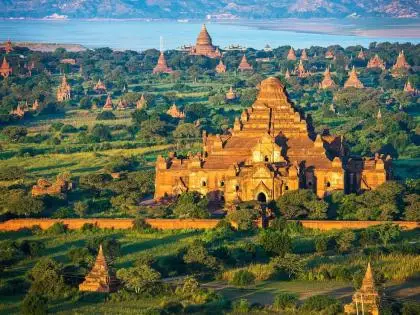 Included : Overnight stay: Hotel in Bagan, Bagan Tour & English Speaking Guide
Meals : Breakfast
Day 4 : Bagan Local Life
Today, we carry on with an exploration of Bagan, starting with the Manuha Temple's Mon architectural lines. We will proceed to the Thanaka Museum for insight into the traditional uses of sandalwood paste, and then a visit a Cigar Workshop to see how local cheroots (cigars) are made.
Bagan's largest market, Nyaung U Market, follows before we stroll through a local village to see a traditional brick factory. We learn more about Myanmar's national education system at the Monastic School where disadvantaged children receive free primary education, and then in the late afternoon we will head to Irrawaddy River for a private sunset cruise with cocktails and views of temple silhouettes on the bustling shores.
Optional Tour: Hot Air Balloon Flight over Bagan
Float over thousand-year old pagodas next to the mighty Ayeyarwaddy River as the sun sinks slowly behind the mountains. One of the most remarkable sights in Asia, the magic sight of Bagan's ancient temples dotting the landscape affords visitors an unique opportunity to see this ancient kingdom from a rare perspective. The sunrise and sunset champagne flights take off daily from October to March.
.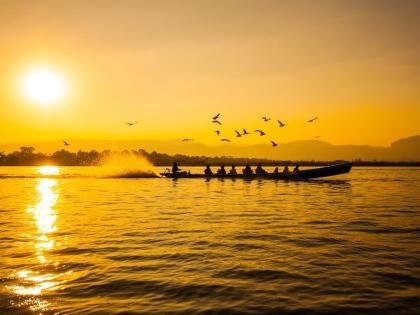 Included : Overnight stay: Hotel in Bagan, Bagan Tour, English Speaking Guide & Rive Cruise
Meals : Breakfast
Day 5 : Mandalay City Impressions
After breakfast, we're off to the airport for a quick, 30-minute flight to Mandalay. From here, we'll head straight to Mandalay city to enjoy the morning at the Zegyo Market, buzzing with local Mandalay life.
Next, we will go to the Artisan Quarters where we'll find some of the oldest craftsmanship dating back to Myanmar's last kingdom. We'll observe gold leaf pounding, teakwood carvings and Myanmar tapestry embroidering along with how Baddha statues are shaped from bronze and marble.
Next we'll take in the highlights of Mandalay including the Mahamuni Pagoda that's home to the country's most significant Buddha images, covered with tons of gold leaf, the crown prize in wars between ancient Myanmar kingdoms. The Golden Palace Monastry offers a glimpse of Myanmar's original royal architecture and last, the Kuthodaw Pagoda houses Buddha's teachings carved in sacred Pali script from stone slabs considered the world's largest book in terms of surface area.
We will conclude our day with panoramic sunset views of the city skyline from the highest point in the city, Mandalay Hill.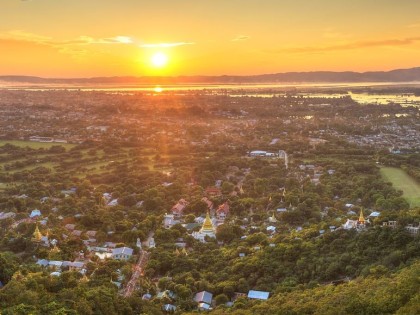 Included : Overnight stay: Hotel in Mandalay, Flight Ticket Bagan – Mandalay, Mandalay Tour & English Speaking Guide
Meals : Breakfast
Day 6 : Ava (Inwa) - Sagaing - Amarapura - Ubein Bridge
After breakfast, we will journey to outside of Mandalay where we'll find the Ancient Kingdoms of Myanmar, before heading to Ava (Inwa) that was the accent capital of the Shan and Burmese Kingdoms for over four centuries.
From here, we will then cross the Myint Nge River by ferry for a horse cart exploration of Ava's small roads and visit a pristine Bagaya Teak Monastery still in use by monks. We'll also see the Nanmwyin Watch Tower, known as the Leaning Tower of Ava, which is the last standing structure of the Ava dynasty palace. We'll also visit Mah Aungmye Bonzan Monastery with its graceful curves and archways.
Next, we will then continue to the Ancient Kingdom of Sagaing on the other side of the Irrawaddy River, and enjoy beautiful vistas over the river and hillside from Sagaing Hills. At a monastery in Sagaing we learn about the life of Buddhist devotees and visit a famous Silversmith Village nearby. In Amarapura, an ancient capital city famous for weaving and textile industries, we'll visit a cottage industry workshop to learn more about longyis and traditional fabrics.
Closer to sunset, we will head to the Taungtaman Lake to experience the impressive Ubein Bridge — a simple, but solid teak bridge that spans 1.2 kilometers over the lake, which also doubles as a beautiful subject for sunset photography.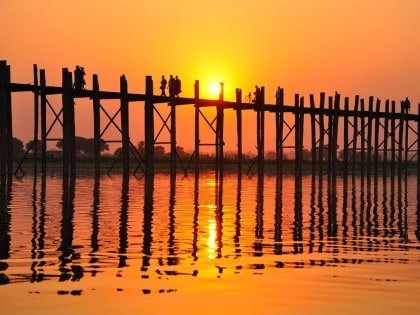 Included :Overnight stay: Hotel in Mandalay, Mandalay Tour & English Speaking Guide
Meals : Breakfast
Day 7 : Inle Lake, Floating Islands & Leg Rowers
After breakfast, we will say goodbye to Mandalay as we travel to the airport for a 30-minute flight to Heho, a quiet transit town that is home to one of very few airports in hilly Shan State. We'll drop by the Heho Market, a melting pot of ethnic minorities from the surrounding areas who trade handmade goods and locally grown produce (on market days only).
On the way to Inle Lake, we will stop at a local family's workshop and learn about Shan umbrellas and paper making using traditional methods employing fibres of mulberry trees. An hour's drive to Inle Lake takes us down a valley fringed by the Shan mountains and rice padi fields to check in to our hotel.
Our afternoon will take us on an exploration of Inle Lake, known for its floating islands and gardens growing on natural beds of tangled water hyacinth roots. The fishermen in the area us a technique indigenous to the Inn Thar minority only on Inle Lake, they balance and row with one leg.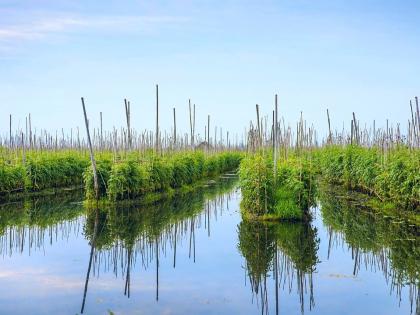 Included : Overnight stay: Hotel on the shore (Nyaung Shwe) or in the lake, Inle Tour & English Speaking Guide
Meals : Breakfast
Day 8 : Inle Lake & Inn Thein Boat Excursions
After breakfast, a down a small river takes us to Inn Thein Pagoda and seemingly back in time. A short walk through verdant bamboo grooves open up to a field covered with over 1,000-year-old, ancient pagodas. We then take the boat back to visit Phaungdaw Oo Pagoda, home to sacred gold leaf covered Buddha statues. We also visit the Inpawkhon Weaving Village for insight into the local crafting of handmade silk, linen and lotus fabrics.
For a bonus treat, we will stop at a Burmese Cat house built over the lake to reintroduce this endemic, rare pure breed feline to Myanmar. Then at Nampan Village, local craftsmen will show us more about the traditional rolling and packing of Burmese cigars called cheroots, before we end our day with the graceful boatmen perched on one leg, rowing our canoes into the sunset.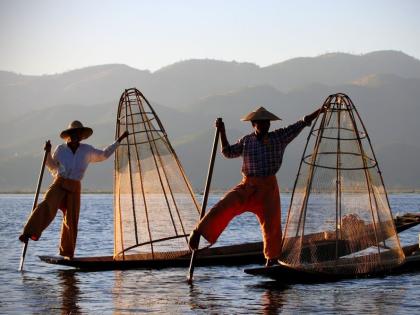 Included : Overnight stay: Hotel on the shore (Nyaung Shwe) or in the lake
Meals : Breakfast
Day 9 : Red Mountain Estate Wineyard - Yangon
In the morning, we will transfer by boat to the Nyauang Shwe town and visit the nearby Red Mountain Estate to tour of the lush vineyard, situated on the side of mountain.
Here, we will get to taste some of Myanmar's premiere wines, and observe the different aging methods completed in their cellar cave. After lunch in Nyaung Shwe, we will take an hour's drive to Heho airport for an afternoon flight to Yangon. Upon arrival to Yangon, we will transfer to our hotel. Rest of the evening is free for relaxing and own Yangon explorations.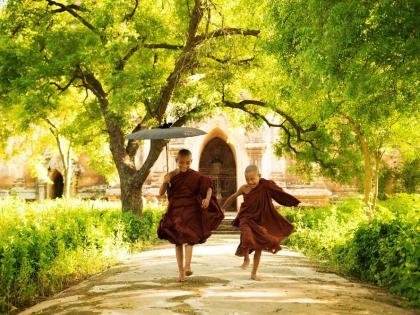 Included : Overnight stay: Hotel in Yangon, Tour, English Speaking Guide & Flight Ticket Heho – Yangon
Meals : Breakfast
Day 10 : Yangon-Bago-Golden Rock (Kyaikhtiyo)
We kick-start our morning with a pickup from the hotel in Yangon, followed by a two-hour (99 kilometer) drive to Thanatpin, where we take a stroll through colourful local market.
Next, we will board a local long tail boat for a ride through rice fields and small Mon Villages scattered along the waterway. After lunch at a local restaurant in Bago, we will continue our journey with a three-and-a-half-hour (110 kilometer) drive to the Kin Pun base camp to change our mode of transport to an open truck.
The open truck ride is shared with local pilgrimage makers for the next 11 kilometers to the Yathetaung base camp, located 500 meters below the summit ridge. A further, one-hour hike up a partly on steep road and paved trail leads us to the summit. The Golden Rock, or Kyaiktiyo as the Burmese call it, is a fascinating sacred boulder covered in gold leaf and balanced precariously on the edge of a cliff.
Crowning the boulder is a small shrine believed to contain Buddha's hair relics, the source of the gravity defying magic. A continual stream of pilgrims from Myanmar and Asia come to witness the wonder at least once in their life time. Enjoy the tranquil sunset, soak in the unique atmosphere and share in wonder with fellow monk, nun and lay pilgrims.
Optional: The Royal Treatment
For those who would prefer relaxation the entire way, they can enjoy views from a bamboo sedan chair carried by four local porters. Arrangements can be made by trip guides at the base of the climb. Prices are determined by season, availability and body weight (typical rates run around 25USD).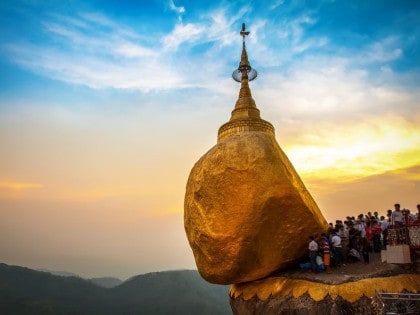 Included : Overnight stay: Hotel near Golden Rock, Tour & English Speaking Guide
Meals : Breakfast
Day 11 : Golden Rock – Bago – Yangon
Wake up early for lovely sunrise views and a quiet morning stroll. Enjoy breakfast at the hotel before descending back to the Kin Pun base camp. We'll take a three-and-a-half-hour (110 kilometer) drive to Bago. After lunch, we will visit a Mon Weaving Village near Bago.
The rest of the one-and-a-half (80 kilometer) drive to Yangon is broken up with visits to a Nat Three Shrine dedicated to a legendary Nat spirit, the Kyaik Pun Pagoda with its four giant Buddha images, and the Allied Troops War Cemetery honouring 6,000 war heroes of WWII. We will reach Yangon in the afternoon and the rest of the day is for relaxing or shopping in Yangon.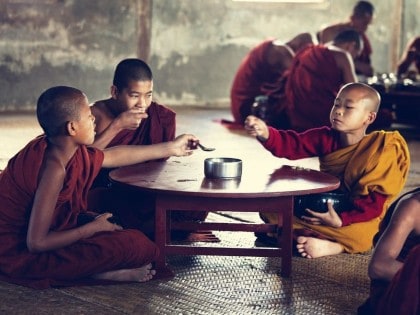 Included : Overnight stay: Hotel in Yangon, Tour & English Speaking Guide
Meals : Breakfast
Day 12 : Yangon departure
Breakfast at the hotel and free at leisure until the time to transfer out to Yangon airport for your departure flight.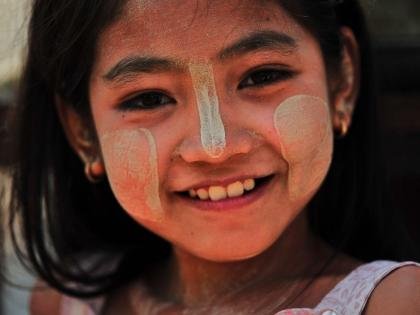 Included : Transfer & Breakfast
Meals : Breakfast
Luxury – Best Accommodations – Private Tours & Guide.
| Date | USD per Adult |
| --- | --- |
| 01 April – 30 Sept | 2800 to 3200 |
| 01 Oct – 31 Mar | 3600 to 4000 |
Superior – 3-4 Star Accommodations – Van & Guide sharing
| Date | USD per Adult |
| --- | --- |
| 01 April – 30 Sept | 2600 to 3000 |
| 01 Oct – 31 Mar | 2800 to 3200 |
Standard – Accommodations – Van & Guide sharing
*Estimated based on min. 2 travellers.
Tour Include
 Private English Speaking Guide
 Private tours and transfers with air conditioned vehicles as specified in our itinerary
 Meals as listed
 2 bottles of water and 2 refreshing towels per person on full day excursions
 Domestic air fares as per itinerary
 All entrance fees to the sites mentioned in the itinerary
 Accommodation
Tour Excludes
Meals that is not listed
Drinks
 Personal Expensive