Luanti Natural Fish Spa, Borneo
Luanti Natural Fish Spa, Borneo
If you are in Sabah, Borneo and looking for a unique foot spa experience, head on to the Kampung Luanti fish Spa for a fun and tickly experience that leaves you with baby-smooth feet. Located in Kampung  (village) Luanti, Ranau, between Kota Kinabalu and Sandakan, near Kinabalu Park, this fish massage is worth a visit.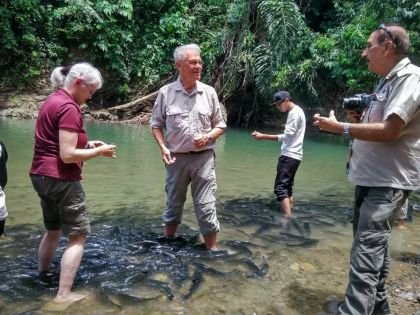 In the Local Kadazan-Dusun dialect, 'tagal' means 'no fishing', and the main purpose of the 'tagal' is to preserve the environment as well as the ecosystem to benefit future generations. 'Ikan Pelian' or Malaysian Mahseer comes from the family of Cyprinidae. These fishes are specifically trained by the villagers to perform the healing massage activities.
The fish massage is deemed to have a curative effect on those who suffer from psoriasis. Come to Kampung Luanti for regular fish massages and your skin will be smooth and supple, just like a baby's bottom.
Luanti is situated on the way from Kinabalu Park to Sandakan and other nearby attractions are Poring Hot Springs, Kinabalu Park and Sabah Tea Plantation.
---
Popular Borneo & Malaysia Packages