Thailand
Destination Travel Guide

Touted as the 'Land of Smiles', Thailand is one of the most popular tourist destinations in Southeast Asia. Teeming with vibrant culture, warm people and scrumptious cuisines, Thailand is blessed with beautiful beaches with limestone outcrops, ancient ruins, mesmerizing Buddhist architectures and bustling open markets that sell everything under the sun. Thailand caters to all kinds of travellers, from island-hoppers to serious shoppers and those looking for a cultural immersion experience.
Destination, Tours & Hotel
About Chiang Mai
Chiang Mai is located in northern Thailand and has a totally different feel than the South, Central, and Eastern parts of Thailand, with its very laid-back feeling it's no wonder guests are eager to return time after time.
The cultural influences are also noticeable in every corner of the city and make it a truly unique experience. There are a lot of attractions in and around the city. More about Chiang Mai.
Click to View - Recommended Tours & Hotels in Chiang Mai
Recommended Tours
Chiang Mai City Tour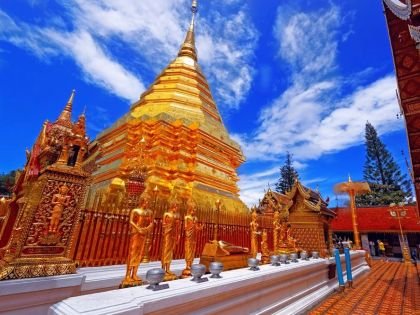 One of the main highlights of any trip to the Rose of the North, Chiang Mai, is a visit to the famous Doi Suthep Mountain on the outskirts of the city. Doi Suthep (1676 m) is one of the two peaks of mountains located west of Chiang Mai, the second peak is known as Doi Oui.
One of the most beautiful temples in northern Thailand is located on the top of Doi Suthep. The very sacred Wat Doi Phratat Suithep was founded in 1383 and is a major symbol of the Buddhist traditions of northern Thailand.
---
Happy Elephant Home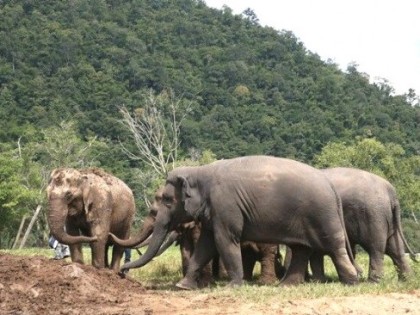 Happy Elephant Home is a sanctuary for small elephants – currently has five elephants and only admits 15 visitors per group per day.
Offering half day and full day programs, tours at this sanctuary offer a mud-bath with the elephants, which protects their skin against the sun. In the afternoon, you accompany them on a trek to the river through a beautiful valley. At the river, the animals love to take a swim and play in the water.
---
Recommended Hotels
Ratilanna Riverside Spa Resort Chiang Mai
Ratilanna Riverside Spa Resort sits on the bank of the Ping River, in the heart of Chiang Mai.  Across the river from the resort is the ancient city of Wiang Kim Kam, once the capital of Lanna Kingdom. Within a 5-minute drive is Chiang Mai Night Bazaar, the city's renowned shopping district. Chiangmai's Old City area, which houses the city's best-loved temples, museums, and chic cafes, is less than 10 minutes drive away.
---
Banthai Village Boutique Hotel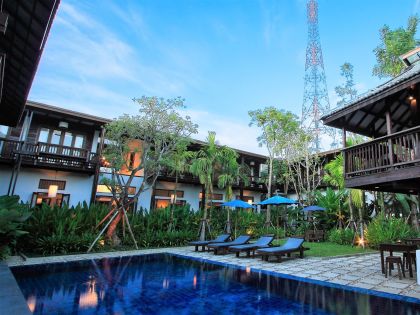 Nestled in a bustling neighbourhood within walking distance to the old city, Banthai Village is a cosy retreat that also offers easy access to much of Chiang Mai's best attractions including the Night Bazaar.
---
Rimping Village Chiang Mai Thailand
Rimping Village is a boutique hotel in Chiang Mai, located in the peaceful and leafy Wat Gate community, on the east side of the Ping River. The simple and comfortable boutique hotel offers 34 rooms and excellent facilities. More about Rimping Village.
About Koh Chang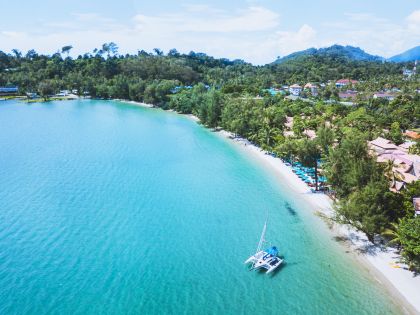 Koh Chang is an island in eastern Thailand not far from the Cambodian border. It's possible to reach Koh Chang from Bangkok by car in a few hours. The island is beautiful and has its own unique charm. Stretches of long white sandy beaches, coconut trees and lush jungle is a common sight on Koh Chang.
Most of the scenic beaches and bays are on the west side of the island. There is some development on the island and you can find several nice beach resorts. It's popular to combine a visit to Kho Chang with a visit to the nearby island Koh Kood and Koh Mak.
Click to View - Recommended Tours & Hotels in Koh Chang
Recommended Tours
Explorer Koh Chang

Explorer the unknown and exciting east side of Koh Chang. Very few visitors to Koh Chang experience this fascinating side of Koh Chang. Get to see some hidden places away from the busy beaches and get a nice overall impression of Thailand's second-largest island.
---
Thai Fun Cruise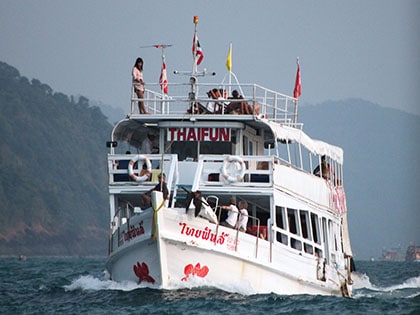 Thai Fun Cruise boat is very comfortable with plenty of room, shower and toilet facilities. There are comfortable seats on board so that you can lean back and enjoy this day on the sea.
Recommended Hotels
KC Grande Resort & Spa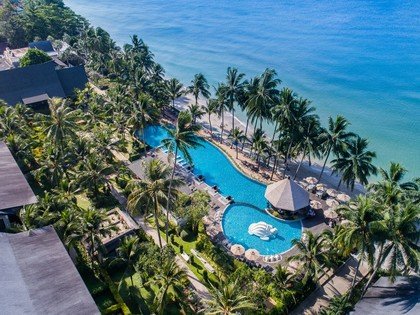 KC Grande Resort and Spa occupies a prime stretch of beachfront on White Sand beach and provides some of the best accommodation in newly built hotel blocks and luxury villas. Worth splashing out for if you want to stay on White Sand beach. It's one of the most popular resorts on the island.
---
Koh Chang Paradise Resort & Spa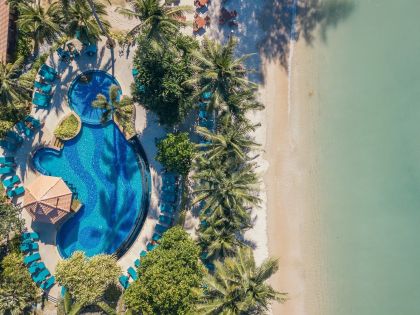 Koh Chang Paradise Resort offers a 260 metres beachfront. The resort offers 80 sea- and garden view bungalows and villas. The resort is located at Klong Prao Beach, along the white sandy beach where you can relax in an easy-going atmosphere and just a 15-minute ride from the pier.
---
The Emerald Cove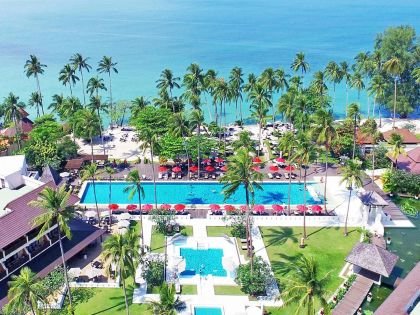 Discover the wild beauty and peaceful setting of Koh Chang, one of Thailand's best-kept island secrets, at The Emerald Cove Koh Chang. This five-star Koh Chang resort on set on secluded Klong Prao Beach offers 165 rooms and suites, all with views of either the sea to the west or the jungle-covered hills to the east. While the soothing modern Thai interiors of the rooms and suites tempt you to relax inside, Koh Chang adventures await just outside your door.
About Koh Kood
Koh Kood is located on the Eastern Seaboard very close to the Cambodian border and the more known Island of Koh Chang. Koh Kood is still a real pearl with beautiful untouched nature, pristine white beaches, beautiful waterfalls mixed with a few amazing hotels. There are no shopping malls or department stores on the Island. So, guests can really unwind and explore the many things nature has to offer such as visiting Klong Chao waterfall, Bang bao fisherman village and exploring the many beaches. Koh Kood has normally very calm waters and can be recommended for families.
Click to View - Recommended Hotels in Koh Kood
Recommended Hotels
Koh Kood Paradise Resort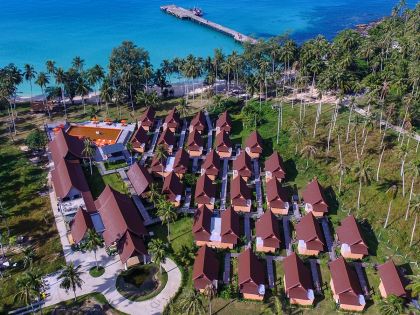 Koh Kood Paradise Resort is a resort with modern Thai style villas. Koh Kood Paradise Resort is located on Ta Pao Beach Koh Kood. The beach at the resort is a white sandy beach and blue sea. The resort also has a pool as one of the few resorts on the island.
---
Tinkerbell Privacy Resort

Tinkerbell Privacy Resort has 15 luxurious tropical style villas and offers a romantic atmosphere. The resort is located on the west side of Koh Kood.
Tinkerbell is one of the most popular luxury resorts on the island. 
---
Koh Kood Beach Resort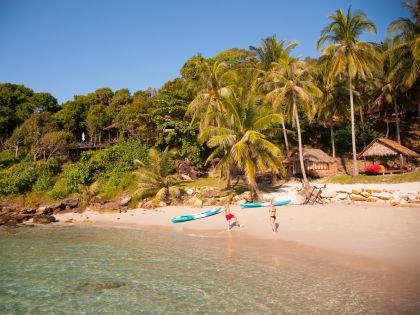 Koh Kood Beach Resort is located on a secluded private amazing stretch of beach. There are some very nice bungalows in Thai style and Bali cottage style. This Resort is perfect both for couples and families. 
About Koh Mak
Koh Mak is a small Island located next to Koh Kood and Koh Chang. The beautiful Island is a quiet gem and suitable for both families and couples who are looking for a relaxing holiday.
Koh Mak Island is still very local compared to other Islands in Thailand. More about Koh Mak here
Click to View - Recommended Hotels on Koh Mak
Recommended Hotels
Seavana Beach Resort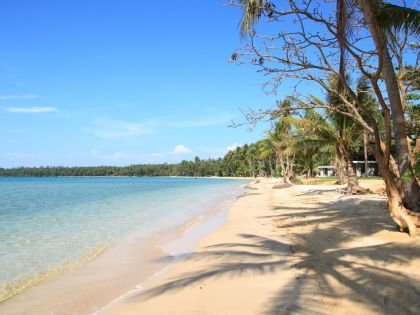 Seavana Beach Resort is one of the most popular resorts on Koh Mak. The resort is a romantic retreat with its own serene private beach.
---
Koh Mark Resort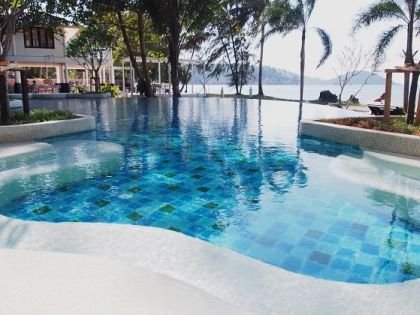 Koh Mak Resort is located on a long and beautiful white sandy beach. it's a perfect place to relax and enjoy life.
About Koh Lanta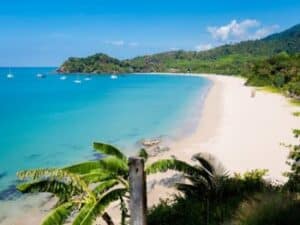 Koh Lanta is located on the west coast of the Andaman Sea between Krabi and Phi Phi Island. It is a large-sized island, and there are 9 beaches from north to south along the sunset coast. This island offers stunning scenery, fantastic white sandy beaches, from the coast there are more than 50 small islands, and plenty of forests, coral reefs, and underwater life. Its geography is typically mangroves, coral rimmed beaches, and rugged wooded hills.
Click to View - Recommended Tours & Hotels on Koh Lanta
Recommended Tours
Explorer Koh Lanta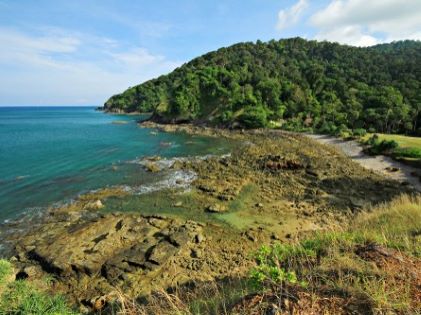 The excursion is filled with plenty of highlights and you get closer to the daily life of Koh Lanta's inhabitants.
Experience Koh Lanta by sailing with longtail boats in the amazing mangrove forests and you will feel closer to nature and enjoy the beautiful cruise.
Recommended Hotels
Rawi Warin Resort & Spa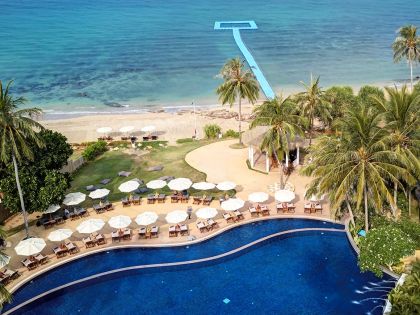 It's a 5-star luxury resort on Koh Lanta. Set on a beautiful stretch of Klong Toab Beach and a hillside covered in lush tropical rainforest, it is indeed a beautiful haven. Contemporary southern Thai-style designs create serene interiors with a secluded ambience.
---
Long Beach Chalet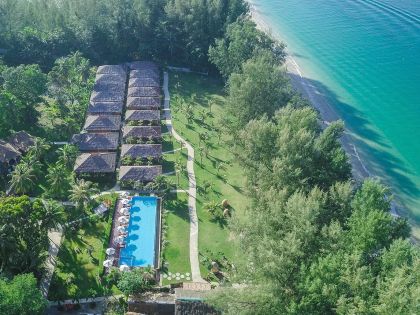 A boutique resort nestled on Long Beach, Koh Lanta, in an area of outstanding natural beauty with pristine turquoise waters and lush tropical gardens. The chalets will take you a few steps closer to nature with unique style while providing you with all the comfort and convenience of modern amenities.
---
Nakara Long Beach Resort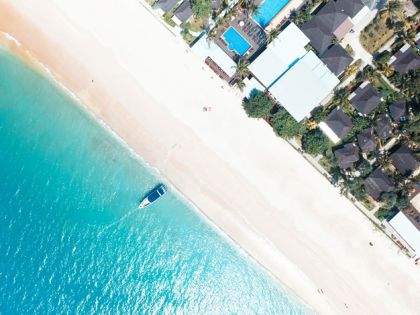 Nakara Long Beach Resort is situated right in the middle of Long Beach or "Phra Ae Beach" where the longest sandy beach (rocks-free) lies along the northwest coast of the island. It offers a peaceful and relaxing atmosphere where travellers can be enjoying the warm sun and lie down watching crystal clear blue sea or walking along the island's finest sandy beach.
About Bangkok
Thailand's city capital of Bangkok is a pulsating city famous for its vibrant street life and ornate Buddhist shrines. Equally popular for its affordable shopping offerings, Bangkok also gives the average foodie a run for their money with exotic street food that are some of the best in the world. A city of polarizing experience, Bangkok entices travellers with gleaming temples, floating markets and exciting nightlife for the young and hip holidaymakers. Don't miss the experience of breezing around the city in a tuk-tuk and drinking in the dizzying vibe of the Chatuchak Weekend Market. Bangkok has everything for your five senses to enjoy. More info about Bangkok here.
Click to View - Recommended Tours & Hotels in Bangkok
Recommended Tours
Bangkok Highlights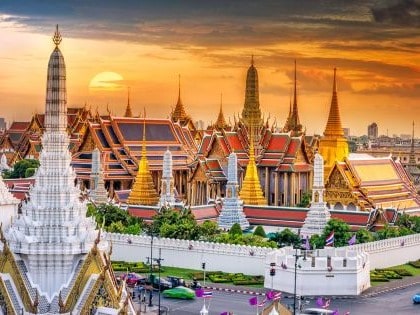 Bangkok's Highlights is a full day excursion for the whole family where you get an introduction to the best sights of Bangkok. Among other things, we will take a boat on the Chao Paya river and experience the local life here. Enjoy the small Klongs testifying to Bangkok as it was many years ago. Of course, we must also experience Bangkok's main attraction, the Grand Palace. Look forward to Eastern mysticism and many impressive highlights of Bangkok.
---
Bangkok by Bicycle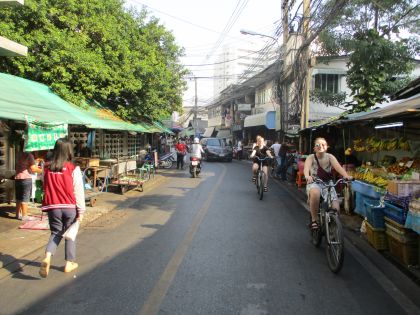 Get a glimpse of the undiscovered Bangkok on two wheels. Discover a completely different side of Bangkok on this bike tour. Look forward to experiencing a very local Bangkok with small markets and Chinatown. We bring you from the busy and noisy streets to the more quiet local areas of Bangkok.
Recommended Hotels
Ramada Plaza by Wyndham Bangkok Menam Riverside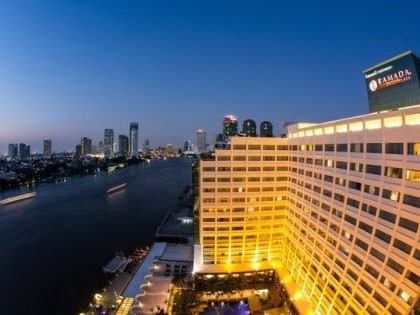 Located along the Chao Phraya River, Ramada Plaza by Wyndham Bangkok Menam Riverside offers luxury rooms and suites with river views and free WiFi. It also provides a free round-trip shuttle boat service from/to Saphan Taksin BTS Skytrain Station and free Tuk Tuk shuttle service to the 5-minute walk away Asiatique the Riverfront shopping mall.
---
Ibis Bangkok Riverside Hotel
Next to Chao Phraya River and near shopping and dining venue ICONSIAM, ibis Bangkok Riverside is a fresh, fun and friendly hotel offering great value and beautiful views. Guests are just a short shuttle ride away from the BTS SkyTrain and river taxis to Asiatique, Wat Arun and the Grand Palace. Rooms include a cozy double or twin bed and WiFi. There's also a riverfront swimming pool, restaurant and bar.
About Chiang Rai
Thailand's northernmost province Chiang Rai borders Myanmar to the north and Laos to the east. Chiang Rai, a city rich in culture and history, promises an enchanting stay for all travellers. The province is mainly mountainous terrain, forming the "Golden Triangle" around the Mekong river. Chiang Rai is an interesting place for travellers to visit if they are eager to experience the beautiful northern Thai landscapes. To get a feel of the local culture and history, it is popular to visit the local hill tribes. Additionally, the province has a number of important sights, including Mai Sai, Chiang Saen, which is home to many ancient ruins, and Doi Hua Mae Kham which is home to a number of tribal villages.
Click to View - Recommended Tours & Hotels in Chiang Rai
Recommended Hotels
Le Méridien Chiang Rai Resort, Thailand

Discover tranquillity and peace at Le Méridien Chiang Rai Resort, Thailand. The unique hotel is situated on the banks of the Mae Kok River close to the city's most compelling attractions.
---
Laluna Hotel & Resort

Set in the heart of Chiang Rai, this charming resort is within close proximity to the airport. It is an ideal base from which to explore major sights such as the Golden Triangle and various temples, many of which are only a short drive away.
About Koh Samui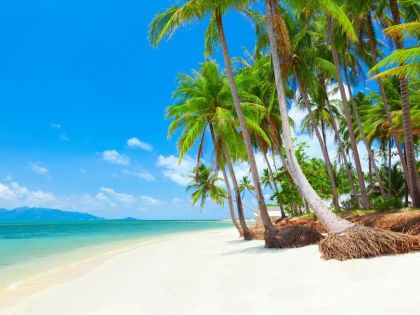 Koh Samui is one of Thailand's most popular destinations for its white sandy beaches. You will have the opportunity to visit picturesque waterfalls and amazing nature. From the hustle and bustle of Chaweng Beach to the lively yet relaxed atmosphere of Lamai Beach, to the timeless feel of Bophut's Fisherman's Village, to the tropical beach paradise of Maenam. Koh Samui is unique among Thailand's islands in maintaining a broad appeal for everyone.
Click to View - Recommended Tours & Hotels in Koh Samui
Recommended Tours
Snorkelling Koh Tao & Nang Yuan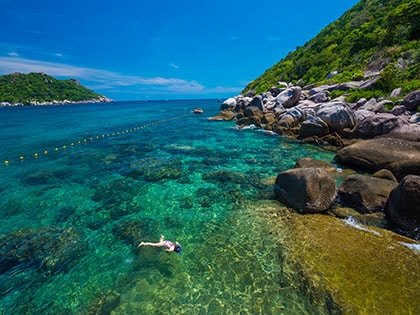 This day trip is for all water-loving people who want to experience the wonderful sea around Thailand. Koh Tao and Koh Nang Yuan are not to be missed if you enjoy snorkelling. These are some of the best places to snorkel in Thailand – a must for all water lovers.
---
Recommended Hotels
Buri Rasa Village Samui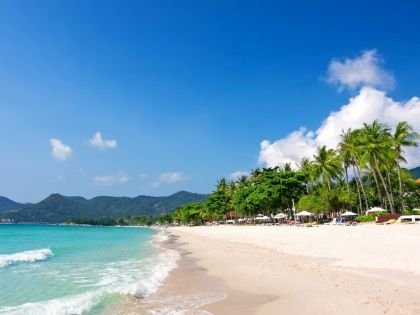 Buri Rasa Village Samui is a true oasis in the heart of Chaweng with enchanting traditional southern Thai architecture spread amidst a 'Garden of Eden.'
The 4-star boutique resort is your home away from home on the white sand beach of Chaweng on the paradise island of Koh Samui.
---
Baan Chaweng Beach Resort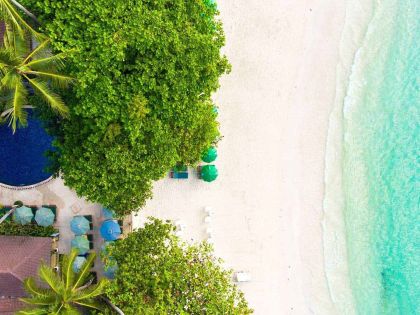 The Baan Chaweng Beach Resort & Spa offer an excellent choice who are looking for a nice place at a three-star price. The resort is imbued with comfortable elegance, well-specified, conveniently located, and offers a good value alternative for a real holiday experience on Koh Samui.
About Koh Samet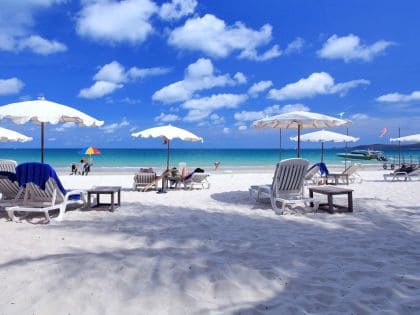 Koh Samet is a paradise island near Bangkok. It's a popular island to visit not only for foreigners but also for local Thais because of the short distance from Bangkok.
Koh Samet has fantastic beaches, delicious seafood and great nightlife. The East coast is the most popular place to stay. There are many sandy bays and most of the island's restaurants, bars and hotels are here. The small west coast beaches are more isolated and a little better, but with fewer resorts to choose from. The northern coast of Koh Samet quiet end with only a few small hotels located on the rocky coastline.
Click to View - Recommended Hotels on Koh Samed
Recommended Hotels
Sai Kaew Beach Resort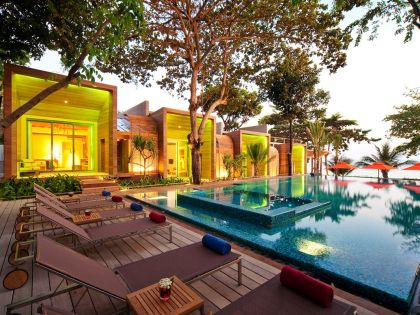 The Sai Kaew Beach Resort is situated along 2 adjoining beaches on the northeast coast of Koh Samet, approximately 25 minutes by boat from Seree Ban Phe pier in Rayong Province and just 3 hours from Bangkok. Guests can enjoy a traditional Thai massage on the beach, or exercise in the fitness centre. Beach activities include volleyball and football. Windsurfing, sailing and scuba diving are available.
About Koh Phangan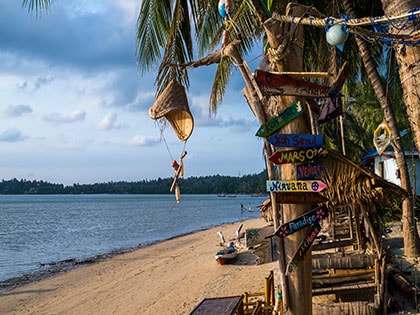 Koh Phangan is a paradise island in the Gulf of Siam, not far from Koh Samui and Koh Tao. Koh Phangan does not have an airport and relies heavily on ferries from the mainland and Koh Samui.
It is the perfect place to go if you wish to relax on the great beaches, snorkelling and learn to dive at Koh Ma, a protected National Park.
Click to View - Recommended Hotel on Koh Phangan
Recommended Hotels
Santhiya Resorts & Spas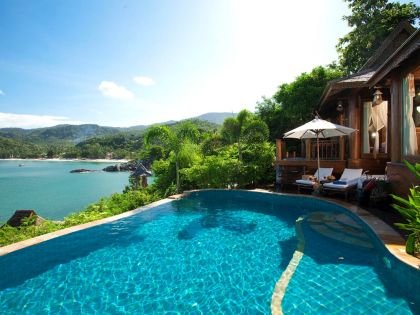 Santhiya's eco-luxury beach resort are situated on Koh Phangan, Koh Yao Yai and Koh Chang, the three island gems in the Gulf of Thailand and the Andaman Sea respectively, and sister islands of the two most popular island destinations in Thailand, Koh Samui and Phuket – boast absolute ocean frontage with peaceful stretches of beach interrupted only by the gentle lapping of waves on the shore.
---
Buri Rasa Village Koh Phangan
Located on Thong Nai Pan Noi Beach, Buri Rasa Village offers beachfront accommodation with a private balcony. You will feel relaxed and pampered while experiencing our tropical island paradise while enjoying dining experiences on the sand. More about Buri Rasa Village Phangan.
---
Havana Beach Resort
Havana Beach Resort offers unmatched comfort at the beachfront of Thong Nai Pan Yai Beach, Koh Phangan's remarkable beach where the breath-taking beauty lies. The resort offers spectacular views of the beach, the bay, and the mountain ranges in the backdrop to offer a unique experience. The crystal-clear ocean and fine white sands add to the charm of the resort.
About Koh Tao
Koh Tao, or Turtle Island, is the diver's paradise. It has been voted the best diving site in the Gulf of Thailand.
You will find plenty of lovely bays, white sandy beaches, beautiful coastal cliffs, and crystal-clear water, Koh Tao is simply a heaven on earth with an abundance of sea-related activities waiting to be discovered. More about Koh Tao.
Click to View - Recommended Hotels on Koh Tao
Recommended Hotels
Haadtien Beach Resort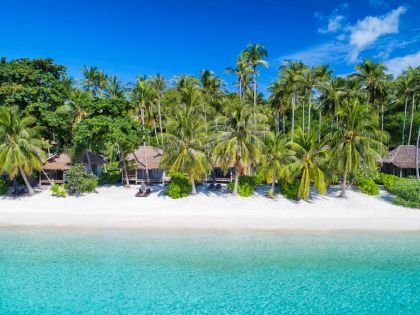 Haadtien Beach Resort is a boutique resort nestled on a secluded beach in Koh Tao Island. Set on Thian-Org Bay (Shark Bay), it is surrounded by palm groves and offers spacious villas with private balconies. Ao Thian Og is a great choice for travellers interested in relaxation, tranquillity and snorkelling.
---
Sensi Paradise Beach Resort

On the Western side of Koh Tao, at the quiet end of the island's longest beach, lies Sensi Paradise Beach Resort – an unobtrusive masterpiece of luxurious, tranquil living perfectly blended with the natural beauty of its environment.
About Koh Lipe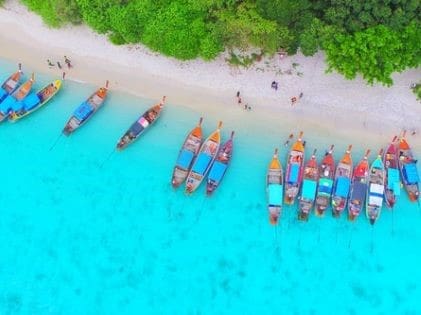 Koh Lipe is a small island in the southern part of the Andaman Sea. It is located in Satun province, close to Langkawi Island (Malaysia), about 60 km from the mainland. Koh Lipe is part of the Tarutao National Marine Park, a large group of over 70 islands, and also part of a small cluster of islands called Butang Islands or Adang Archipelago. Koh Lipe is famous for its diving and snorkelling, and for beautiful beaches, and a relaxed atmosphere.
The quickest route from Bangkok is to fly to Hat Yai, and then travel from there to Pak Barra, which has daily ferries to Koh Lipe. Another popular way is to travel to and from Langkawi.
Click to View - Recommended Hotels on Koh Lipe
Recommended Hotels
Idyllic Concept Resort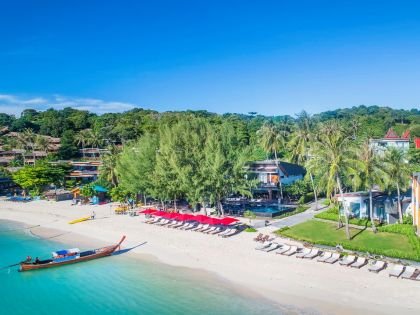 Idyllic concept resort is a boutique resort that provides the perfect setting for a relaxing, fun and rejuvenating holiday. The bungalows are nestled in the tropical landscape. The stunning views over Lipe and the surrounding islands in the Tatarutao National Marine Park also stretch over to Langkawi in Malaysia.
---
Bundhaya Resort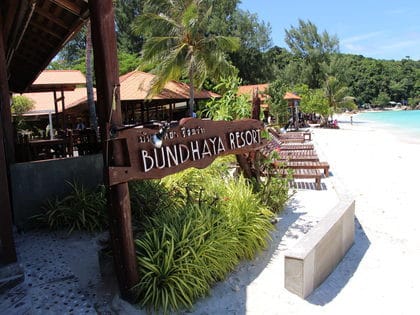 Bundhaya resort is a comforting resort situated on Bundhaya Beach (Pattaya Beach), Lipe island. Truly a haven of peace and tranquillity. Experience the senses of the sand like powder and crystal clearwater, all can be for your dream holiday.
About Khao Lak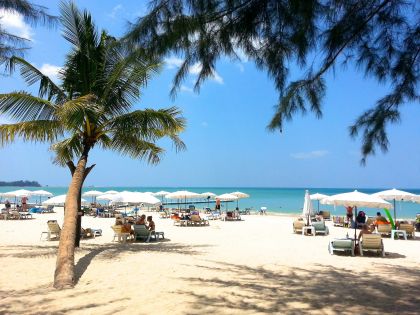 Khao Lak is located just an hour's drive north of Phuket Island on the beautiful Andaman coast and is one of Thailand's most peaceful destinations. Beautiful coastline with beaches that continues for miles – a rare oasis for relaxation, with a superb combination of cool tropical forest, lovely beach accommodation and expansive white sand beaches. Much of the landscape still consists of forest, much of which is national park – Glowing with rich natural attractions and convenient starting points for many other attractions in Phang-Nga, including the famous Similan Islands and Surin islands.
Click to View - Recommended Tours & Hotels on Khao Lak
Recommended Tours
Similan Islands Snorkelling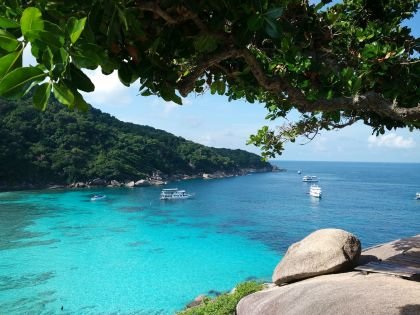 An amazing snorkelling and island trip you will never forget. You will realize that you are in paradise when you're in the stunning clear blue waters of the Similan Islands – Recognized as one of the top 10 most beautiful places in the world. You can explore the crystal clear waters and white sand beaches around the 9 islands and see for yourself the huge variety of marine life in abundance here. Colourful tropical fish, sea turtles, and of course white sand beaches and tropical blue waters, all here at the Similan Islands.
---
Recommended Hotels
Manathai Khao Lak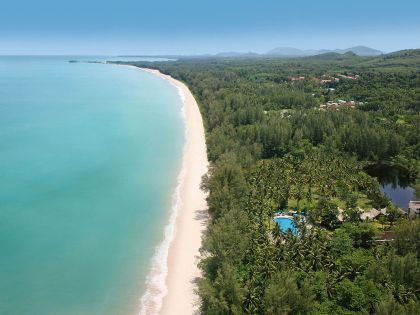 Located in some of the most stunning areas of Thailand, Manathai Khao Lak embodies the epitome of Thailand's hospitality. Each of the tropical sanctuaries offers natural splendour, authentic culture and aesthetic refinement.
---
La Flora Khao Lak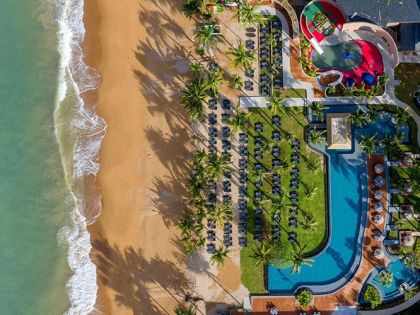 La Flora Resort, Khao Lak is conveniently located to Bang Niang Beach and Nang Thong Beach. The resort is within the vicinity of Laem Pakarang Beach and Sai Ruang Waterfall.
---
Apsara Beachfront Resort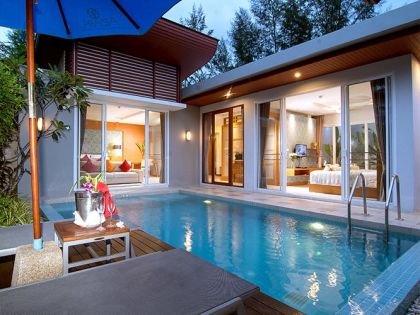 Enjoy full relaxation and take a deep breath with the refreshing cool sea breeze, a clear blue sky, sparkling turquoise ocean, fine white sandy beaches, and lush mountain greenery surrounding you.
About Krabi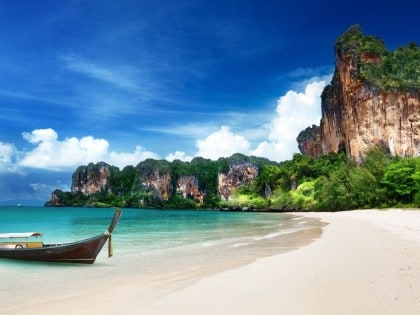 Khao Lak is located just an hour's drive north of Phuket Island on the beautiful Situated along the Andaman coast of southern Thailand, Krabi is one of southern Thailand's most picturesque provinces with perfect beaches and stunning scenery. The province is famous for its great natural beauty, which is characterized by the limestone that can be seen throughout the area. The 160 km long coastline is dotted with bays, coves, and limestone mountains rising from the sea, creating a fascinating landscape of tropical islands. Inland the limestone mountains contain rich flora and fauna.
click to View - Recommended Tours & Hotels in Krabi
Recommended Tours
Islands Hopping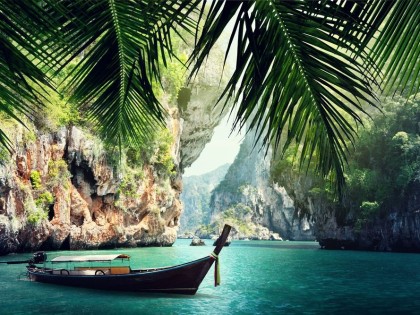 Visit some of the many beautiful islands around Krabi. Some of the nearby tropical islands are Phi Phi Islands, Koh See, Tup Island, Chicken Island, and Poda Island. All you have to do is to swim, snorkel, sunbathe, and enjoy life. Expect a rich variety of coral and fish, crystal clear water, and white powdery sand beaches lined with coconut palms.
Recommended Hotels
Holiday Inn Krabi Ao Ng Beach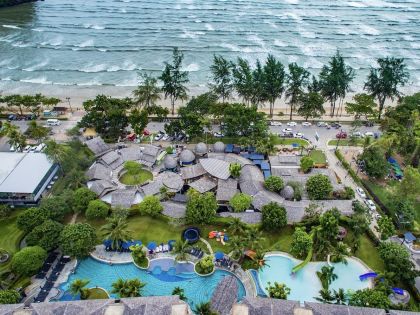 Holiday Inn Resort Krabi Ao Nang Beach is a family resort in Krabi with access to beautiful Nopparat Thara beach. You will find fun from waterslides and free-form pools. The resort has a large kids club with full facilities ranging from daily kids activities arranged by our recreation team.
---
Krabi Resort
Krabi Resort is located on the magnificent Ao Nang beach and is the only resort in Ao Nang that has a private beachfront area. Krabi Resort lies amid lush vegetation of coconut palms with a breathtaking view of the Andaman Sea.
---
Railay Village Resort & Spa Krabi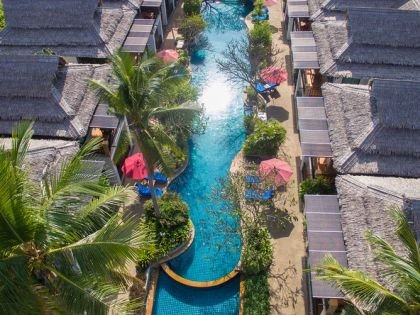 Railay is one of Thailand's most sought-after beach areas. Just south of Ao Nang Beach, around a rocky headland and accessible only by boat, Railay presents a tranquil and extraordinary world. The very picture of tropical paradise, with no roads and no hassle, Railay offers lazy days, adventure forays and chilled-out evenings.
About Phuket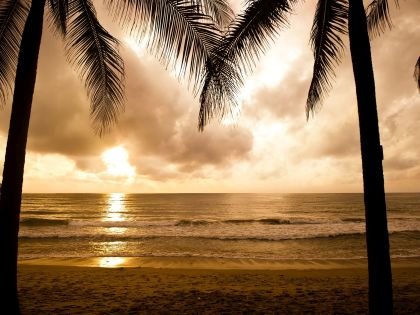 Phuket is Thailand's largest island and is 48 km long and 21 km at the widest part. Phuket lies in the Andaman Sea on Thailand's Indian Ocean coast located 867 kilometres south of Bangkok. Phuket is blessed with magnificent coves and bays, palm-filled, white beaches, small surrounding islands, hospitable people and great seafood. Also delightful Chinese-Portuguese architecture, numerous sporting and leisure opportunities, a lush tropical landscape – which helps to create a nice atmosphere. The most famous beaches are Patong, Kata, Karon, Kamala and Nai Harn Beach.
Click to View - Recommended Tours & Hotels in Phuket
Recommended Tours
Phuket Fantasea Show
Phuket Fantasea is the island's biggest show. With trapeze artists, a cast of hundreds, performing elephants and other animals and an exotic storyline that blends tradition with fantasy you'll have a wonderful evening out here. It's spectacular, it's extravagent, it's impressive and great entertainment value for all.
Recommended Hotels
Katathani Phuket Beach Resort
Resting along 850 meters of unspoiled white sandy beach, embraced by lush green hills and sparkling blue ocean, Katathani Phuket Beach Resort recalls a tropical dream. Warm sands, the soft rhythm of lapping waves, and gently swaying coconut palms relax your senses—while our six swimming pools, six restaurants, and full-service spa delight them. More about Katathani Phuket Beach Resort.
---
Andaman Seaview Hotel
Andaman Seaview Hotel is located near the beach and in a walkable area with good shopping. Big Buddha and Chalong Temple are notable landmarks, and the area's natural beauty can be seen at Karon Beach and Kata Beach. Andaman Seaview Hotel puts the best of Karon at your fingertips, making your stay both relaxing and enjoyable.
---
Seaview Patong Hotel & Resort
Located nearby landmarks such as Bangla Boxing Stadium, making Seaview Patong a great place to stay when visiting Patong. There is no shortage of things to do in the area.
Explore popular art galleries such as Patong Inn Art, Apichart art gallery, and The Phuket Gallery. We're sure you'll enjoy your stay at Seaview Patong Hotel as you experience everything Patong has to offer.
About Hua Hin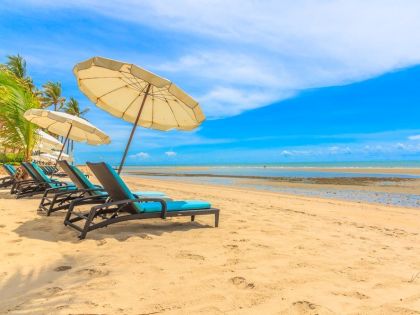 Hua Hin is a refreshing mix of city and sea with lively markets, good golf courses and water parks, excellent accommodation and an ambience that just keeps getting more hip and cosmopolitan. In fact, many visitors never even step foot on the sand. And while most other Thai holiday destinations cater mainly to foreign tourists, Hua Hin is a resort for both foreigners and Thais. Additionally, there are ample opportunities to play golf, spas, visits to the mountains with waterfalls and caves. You will find great shopping, fabulous fish restaurants as well as beautiful nearby national parks.
Click to View - Recommended Tours & Hotels in Hua Hin
Recommended Tour
Koh Talu Snorkelling
Koh Talu is a beautiful small island where you can get very close to nature, and the sea offers fantastic snorkeling and some of Thailand's healthiest and best-preserved coral. Only two hours from Hua Hin, we find the small island of Koh Talu. This island offers white sand beaches and a vibrant coral reef with colorful fish, perfect for a day of exciting snorkeling experiences in the water at Koh Talu.
Recommended Hotels
Laksasubha Hua Hin
Two gigantic cliffs connected by rope bridges, a cavern that reveals a jungle with a river and waterfalls, and a pathway leading down to the golden sands of Wong Amat Beach in North Pattaya. A place of indulgence and great fun – a destination in its own right, an entire world of pleasure, a place where everyday cares are laid aside and where everyone will find something to amaze and delight.
Novotel Hua Hin Cha Am Beach Resort & Spa
Experience an unforgettable holiday experience at Novotel Hua Hin, the best family hotel in Hua Hin. This award-winning family beachfront resort offers guest modern rooms and suites. Each one features a private balcony and stunning panoramic sea view of the Gulf of Thailand. If you feel adventurous, our Siam Adventure Club Tour desk offers a large range of activities and excursions outside the resort.
Popular Thailand Holidays