Vietnam
Destination Travel Guide
Vietnam is a country filled with culture and beauty. Whether you are travelling for adventure or relaxation, this amazing Southeast Asian nation has something for everyone. From stunning natural landscapes to bustling cities and friendly locals, Vietnam is sure to leave you with unforgettable memories.
For those who wish to explore the country, there are plenty of places to visit and things to do. From cultural sightseeing tours to cruises up the Mekong Delta and Ha Long Bay, there is no shortage of options for travellers looking to experience the best of Vietnam.
The north of Vietnam offers a different experience to the central and southern regions. In Hanoi, you can explore historic temples and markets, while in Sapa you can hike through lush valleys and enjoy breathtaking views over terraced rice fields.
In central Vietnam, a visit to UNESCO World Heritage Site of Hoi An is highly recommended.
The south of Vietnam is known for its beautiful beaches and resorts, where you can relax and enjoy tropical sunshine. Whether you are looking to explore the vibrant cities of Ho Chi Minh City or Nha Trang, or just soak up some sun at a beach resort, the South of Vietnam has a lot to offer.
With its stunning landscapes, friendly locals and rich culture, Vietnam is a must-visit destination for any traveller.
Destinations, Tours & Hotels
Ha Long Bay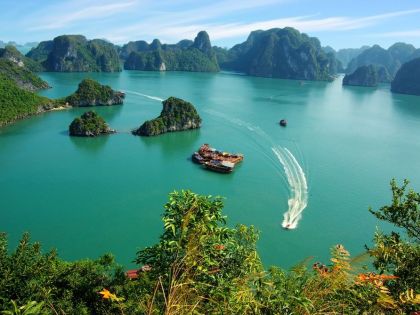 Ha Long Bay has been recognized by UNESCO as one of the 7 natural wonders in the world. Located in the northeastern sea of Vietnam, Ha Long Bay is like a massive nature museum with many majestic systems of rocky mountains and caves of different shapes interspersed between turquoise water. When visiting Ha Long Bay, travellers can immerse themselves in travelling by boat along steep limestone cliffs and admiring nature's masterpiece. More about Ha Long Bay luxury cruise. 
---
Hanoi
Hanoi, the vibrant capital city of Vietnam, beckons travellers with its rich cultural tapestry and historical charm. Nestled along the banks of the Red River, Hanoi seamlessly blends ancient traditions with modern aspirations, creating an enthralling and unforgettable travel experience.
Steeped in history, Hanoi boasts a captivating Old Quarter where narrow streets lead to bustling markets, traditional artisan shops, and centuries-old temples. The iconic Hoan Kiem Lake, enveloped in legends, becomes a tranquil oasis amidst the urban energy. Visitors can explore the Ho Chi Minh Mausoleum, paying homage to the nation's revered leader, and delve into Vietnam's intricate past at the Vietnam Museum of Ethnology. More about Hanoi
---
Hoi An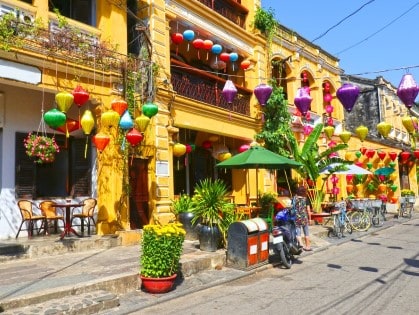 Hoi An, Vietnam is a charming and picturesque town located on the central coast of the country. Its unique mix of ancient Vietnamese, Chinese and Japanese architecture, lantern-lit streets, and atmospheric alleys convey a sense of ancient authenticity that few other places in Southeast Asia can offer. It is this sense of tradition that draws droves of visitors every year to the town's narrow streets, soaking up Hoi An's history and culture. Shopping for bespoke clothing, sampling delicious local cuisine, exploring historic temples and architecture, and taking in the colourful night market are but a few of the experiences that make Hoi An such a special place to visit. For those who crave a glimpse of Vietnam's past, there is simply no better place than Hoi An. More about Hoi An.
---
Ho Chi Minh City (Saigon)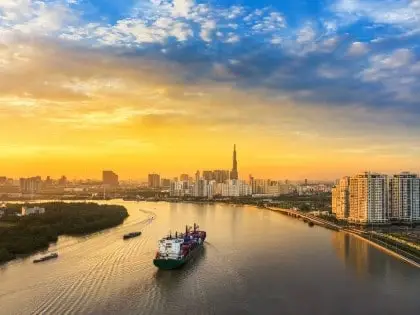 Ho Chi Minh City, formerly known as Saigon, is the largest city in Vietnam and was originally an important Khmer seaport in the Khmer Empire known as Prey Nokor. It was once the capital city of the French colonial period as well as the capital city of South Vietnam before and during the Vietnam War. The city's name was changed to Ho Chi Minh City to honour Ho Chi Minh for his great devotion for his country after 'The fall of Saigon'. Ho Chi Minh City is truly a mixture of history and the future in one.
---
Phu Quoc Island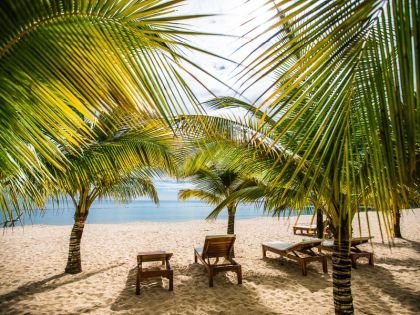 Nestled in the Gulf of Thailand, Phu Quoc is the largest island and is known as the "Pearl Island" of Vietnam. Phu Quoc has the beauty of a sunny paradise with green tropical trees, white sandy beaches stretching along the beach, and mountains hidden under the canopy of primaeval forests. When visiting Phu Quoc, travellers will experience amazing beaches with tropical landscapes.
---
Sapa (Lai Cai Province)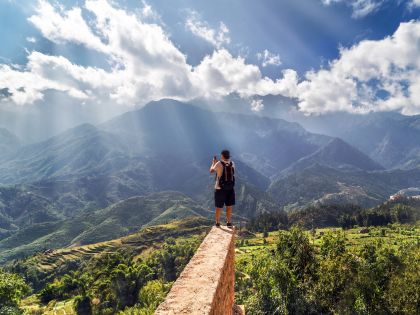 Known as the "foggy city", Sapa is a peaceful land that possesses both the majestic and magical beauty of the Northwest mountains with rolling hills, deep valleys, winding mountain passes, and golden terraced fields. All have contributed to creating a strange attraction for Sapa. Not only that, Sapa is the living space of many ethnic minorities in the mountain areas, so this land has been preserving very diverse cultural values expressed through costumes, languages, traditions, and festivals, especially the traditional markets of Sapa will surely leave a deep impression in the hearts of visitors.
---
Ninh Binh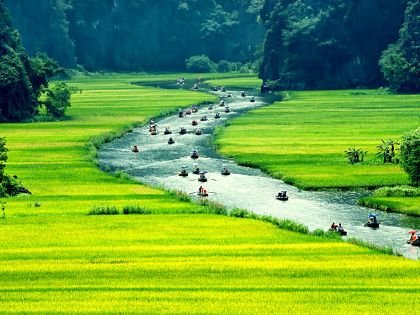 Located in the fertile Red River Delta, Ninh Binh – is the first capital of Vietnam's centralized feudal state. Considered by King Dinh Tien Hoang as a land possessing magnificent mountains and harmonious feng shui. Ninh Binh has the ancient beauty of a land that has witnessed the movement and transformation of the nation's history as well as the majestic beauty of nature with the system of rocky mountains and caves interspersed between the river and the vast rice fields creating a harmonious painting is likened to a Ha Long Bay on land.
---
Nha Trang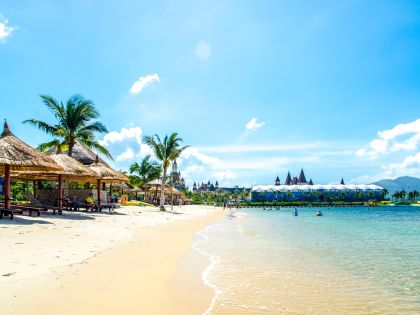 Vietnam is blessed with many beautiful coastal cities. One of them is Nha Trang, with a blue ocean, beaches with fine white sands, magical tropical coral reefs, and beautiful paradise islands off the coast. You will also find ancient Champak temples witnessing a golden age of an ancient empire. In addition to the captivating beauty, Nha Trang is also famous for its rich cuisine with many famous dishes made from fish.
---
Hue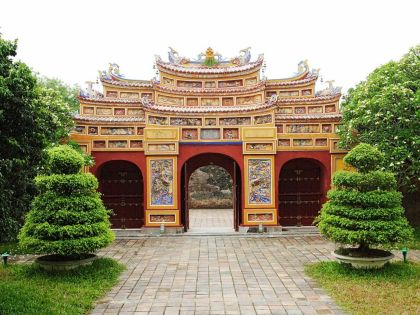 Pronounced as 'hway', this central Vietnam city was the seat of the Nguyen emperors and was the nation's capital from 1802 to 1945. The city's main landmark would be its 19th-century Citadel, surrounded by a moat and thick stone walls.
---
Mai Chau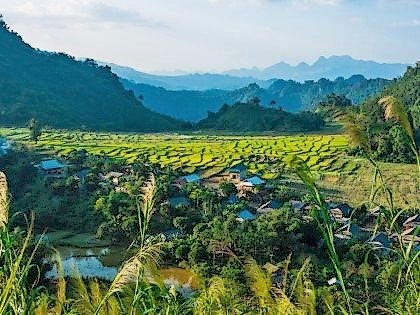 As a valley hidden between the mountains and forests of the North, Mai Chau is likened to a muse sleeping in the protection of majestic nature. With endless terraced fields, houses on stilts precariously between the mountainside, villages imbued with cultural identity of ethnic minorities have created a poetic and lyrical Mai Chau. Coming to this wonderful land, visitors will experience all the beauty in the culture of the Thai ethnic community, an ethnic group that accounts for 60% of the Mai Chau's population with very unique features in the culture expressed through costumes, cuisine, writing, language as well as traditional values.
---
Ha Giang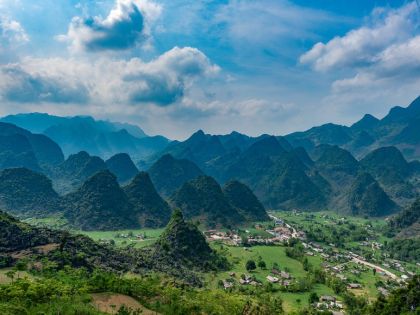 Located at the top of the country, Ha Giang – a borderland with majestic natural landscapes. Surrounded by high mountains, Ha Giang possesses spectacular passes, gorges and craggy cliffs. In particular, Tu San Canyon is known as the deepest canyon in Southeast Asia. Ha Giang is also a global geopark recognized by UNESCO with many scientific and archaeological values. In addition, with 19 ethnic groups living together, it has crystallized into a diverse and harmonious Ha Giang in cultural values.
---
Moc Chau (Son La Province)
Son La – is a mountainous province located in the Northwest region of Vietnam. An area in general with relatively rugged and harsh terrain with many majestic high mountains, deep valleys and spectacular passes. These features have created this land a very magnificent beauty. In that splendour, Moc Chau Plateau appears with a peaceful beauty surrounded by the Hoang Lien mountain range. Due to its unique terrain, Moc Chau town is almost always immersed in thin layers of rattan blankets adding a bit of lyricism to this already very romantic land. In addition, with a cool temperate climate all year round, this land possesses endless tea hills, and immense pine forests, especially the flower fields that change with the seasons. This special change has created for Moc Chau a lyrical diversity that attracts tourists from all over the world.
---
Kon Tum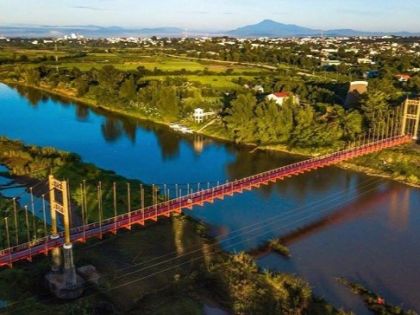 Kon Tum is in the central highlands near the borders of Laos and Cambodia. It is known as the land of high mountains and thick forests. The place is famous for stories of ethnic minority communities. Perhaps that is why the region has a mysterious beauty hidden in its natural splendours. Kon Tum is home to mountains, ferocious rivers, as well as waterfalls murmuring the epic melody of mother nature.
---
Quy Nhon (Binh Dinh Province)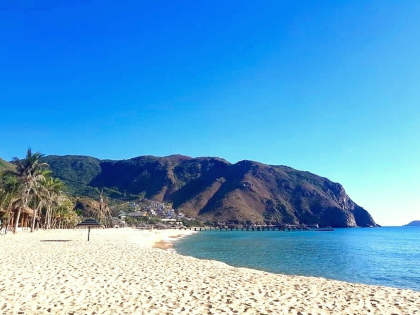 Located in the heart of the South-Central Coast region, Quy Nhon has a beauty that is both idyllic and magnificent. Quy Nhon is famous for its pristine beaches, peaceful fishing villages, and hospitable people. Quy Nhon, Binh Dinh was the capital of the powerful  Champak dynasty (1000-1471) and scattered around the land are relics marking a golden age in the history of the ancient Champak dynasty such as Twin Towers, Banh It Towers, Canh Tien Towers, Duong Long Towers, as well as terracotta towers.
---
Recommended Tours
Cruise along Ha Long Bay
The UNESCO World Heritage Site of Ha Long Bay is one of Vietnam's most famous sights. Dotted with 1,600 limestone islands and islets that spans across an area of 1,500 sq/km, Ha Long Bay is simply a mystical site. More about Ha Long Bay luxury cruise. 
Crawl through the Cu Chi Tunnels
The Cu Chi Tunnels are basically a network of more than 120 kilometers of tunnels, which were first built around 1948 when the Viet Cong were fighting the French. Today, the tunnels have been converted into a huge war museum, offering visitors a sneak peak at the underground life of Viet Cong-era soldiers.
Experience the Sand Dunes of Mui Ne
Located circa 65 kilometers northeast of Phan Thiet, these massive dunes range in colour from gold to white. You can can rent plastic sleds to slide down the dunes or even catch a gorgeous view of sunset here.
Be drunk with (lots of) coffee
For coffee lovers, Vietnam is famous for its rich, condensed milk-laced coffee that is highly addictive and satisfying. If you don't have many things planned, you can simply go cafe hopping in the urban district of Hoan Kiem.
Mekong Delta
The Mekong Delta in southern Vietnam offers a vast network of rivers, islands and swamps that are famous for floating markets, khmer pagodas and rustic paddy-planting villages.