Malaysia (Peninsular & Borneo)
Destination Travel Guide
General Information
Population: 33 million
Capital City: Kuala Lumpur
People: Malay, Chinese, Indigenous, Indian
Language: Bahasa Malaysia, Chinese, English, Tamil, Minority Languages
Currency: Malaysian Ringgit (MYR)
International Dialing Code: +60
About Malaysia
Malaysia is a Southeast Asian country occupying parts of the Malay Peninsula and the island of Borneo. Peninsular Malaysia (West Malaysia) is bordering to Thailand in the North, and Singapore in the South.
On the island of Borneo (East Malaysia), you find the two Malaysian states of Sabah and Sarawak, bordering Brunei and Indonesia.
Malaysia is a sunny tropical paradise, and one of the best places in Southeast Asia to experience wildlife and lush verdant rainforests, clear blue seas, sparkling white sandy beaches and a warm multicultural society comprising the Malays, Chinese and Indian people, as well as hundreds of ethnic groups.
English is widely spoken in Malaysia, and with a well-developed infrastructure, Malaysia is a highly accessible and easy country to travel to. Malaysia is blessed with rain and sunshine all year round making it a truly pleasant holiday destination for just about anyone.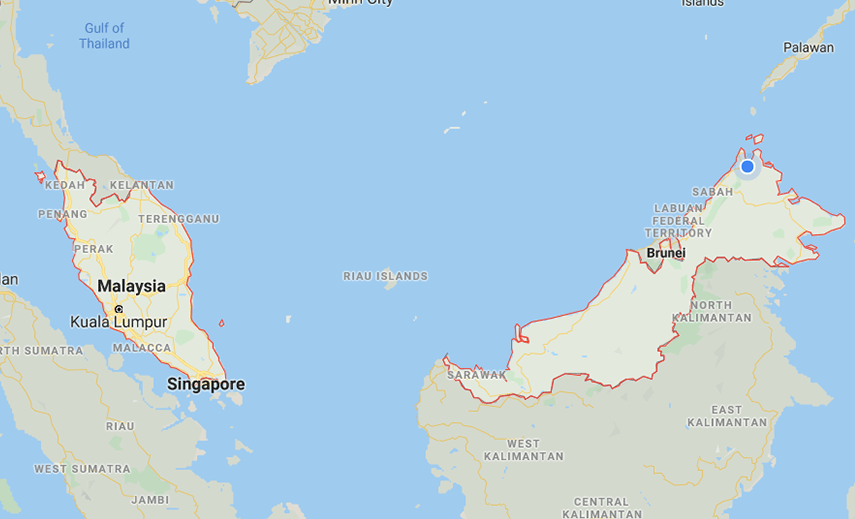 Destinations, Tours & Hotels in Malaysia
About Sabah – Borneo
The Malaysian state of Sabah is located on the island of Borneo, alongside Malaysian Sarawak, the Sultanate of Brunei and Indonesian Kalimantan.
Sabah is a true jewel and offers travellers some of the most extraordinary wildlife in Southeast Asia. 
In some of the many National Parks and sanctuaries, you can experience 130 million years old rainforests and wildlife such as orangutans, proboscis monkeys, pygmy elephants and many birds endemic to Borneo.
Sabah is also home to the iconic Mount Kinabalu, the highest peak in Southeast Asia, which is possible to reach in a couple of days. Many other tours, both family friendly and for adrenaline junkies, are available around the UNESCO site, Kinabalu National Park.
Sabah is blessed with beautiful island and beach resorts, which offers world-class diving and snorkelling or it can be a perfect place for just relaxing after visiting the rainforest.
Main areas in Sabah
Sandakan
Sandakan is the main gateway into the most amazing nature and wildlife areas on Borneo. Sandakan is home to the famous Sepilok Orangutan Rehabilitation Centre. Other wildlife sanctuaries are also located in Sandakan. From Sandakan, areas at the Kinabatangan can be reached such as Sukau and Abai. Other nearby attractions are Rainforest Discovery Centre, Selingan "Turtle" Island Park, and Lankayan Island. Read more about Sandakan here.
Kota Kinabalu
Kota Kinabalu is the capital of Sabah. Affectionately known as KK by the locals, Kota Kinabalu is a popular tourist getaway and the main gateway into Sabah and Borneo, with flight connections to most major cities in Asia. You find most beach resorts in Kota Kinabalu area. Read more about Kota Kinabalu her. 
Lahad Datu
Lahad Datu is a haven for naturalists. Lahad Datu is the gateway to Danum Valley Conservation Area and Tabin Wildlife Reserve. These protected rainforest areas house some of th e world's oldest, tallest and most diverse jungle trees, making it an enchanting destination for nature lovers.
Click to View - Recommended Tours & Hotels in Sabah
Recommended Tours in Sabah
Sandakan Wildlife Tours – Kinabatangan River
Sandakan is home to the famous Sepilok Orang Utan Rehabilitation Centre as well as the Kinabatangan floodplain, which is famous for the high density of Borneo's most emblematic birdlife and mammals, such as hornbills, the Bornean pygmy elephants, orangutans and proboscis monkey. A wildlife cruise along the Kinabatangan River will provide you with the opportunity to see endemic Bornean birdlife and wildlife in its natural habitat. Kinabatangan River is a must-go place when in Sandakan.
---
Island Tours – Lankayan, Selingan "Turtle" Island, TAR Marine Park & Semporna Islands.
Sabah holds precious island gems. Around Sandakan is the beautiful Lankayan Island and Selingan "Turtle" Island. Lankayan is a world-renowned dive paradise and honeymoon destination, Lankayan offers a serene island experience surrounded by an endless view of azure blue waters and sparkling white sands. Also, do not miss a chance to witness turtles laying eggs on the beach during specific times of the year. For more info also view this post about Borneo's 10 best Islands
---
Kinabalu National Park – UNESCO World Heritage Site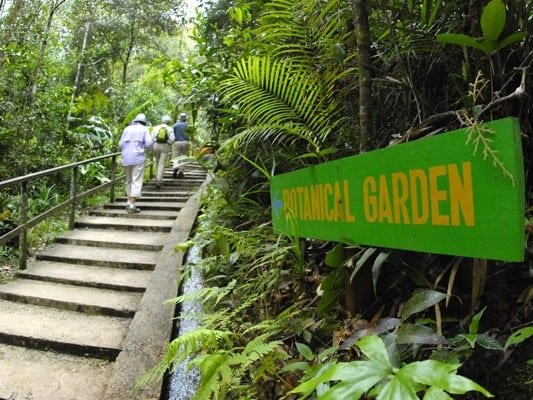 One of the most visited places in Sabah is Kinabalu National Park, a world-renowned UNESCO World Heritage Site, which is also home to the iconic Mount Kinabalu (4,096 m above sea level), the highest mountain in Malaysia and one of the most prominent peaks in Southeast Asia.
---
Kota Kinabalu City & Food Tour
Visit Kota Kinabalu's most interesting sights and explore the distinctive tastes of Sabah. This tour will bring you to savour some of Sabah's best-loved food and drinks, ranging from delectable street food to yummy kedai kopi (coffee shop) favourites. More about Kota Kinabalu City & Food Tour. 
Learn more about traditional local dishes here. 
---
Padas White River Rafting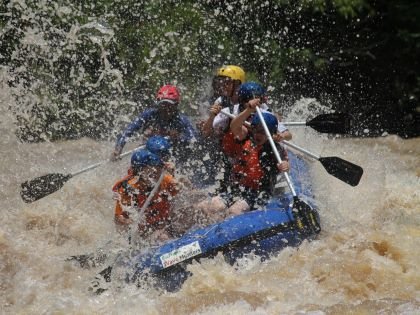 If you are looking for some wet, wild and tumbly fun in Borneo, look no further than Padas River. Offering seven swollen (Grade III-IV) rapids, Padas River throws adventure aficionados into an exhilarating 30-kilometre joyride along Borneo's longest rafting route. Surrounding the Padas River is a verdant jungle with breathtaking views of trees, birds and blue skies on the horizon
---
Mount Kinabalu Climb
Standing majestically at 4,095 meters above sea level, Mount Kinabalu is the highest mountain in Malaysia and one of the highest peaks in Southeast Asia. When in Borneo, one must conquer Mount Kinabalu and explore Mount Kinabalu National Park, which is one of Malaysia's famed UNESCO World Heritage Sites. More info about Mount Kinabalu Climb.
---
Countryside Cycling Tours
Have fun cycling across rural Sabah on the dusty village trails, off roads, along rivers and through rice fields. Visit villages and areas that are not usually accessible for most travellers. More info about Countryside Cycling from Kota Kinabalu.
---
Mari Mari Cultural Village, Kota Kinabalu
The Mari Mari Cultural Village is situated amidst a rustic forest setting in Kionsom, near Kota Kinabalu. You will be introduced to various traditional homes of Sabahan ethnic communities, the Bajau, Lundayeh, Murut, Rungus and Dusun people. Be prepared to teleport back to the times of ancient Borneo through the display of unique ingenious architecture, simulated lives and ritualistic ceremonies. Also, get acquainted with each village tribe as you experience their culture.
---
Luxury Island Beach Tour – Gaya Island, Kota Kinabalu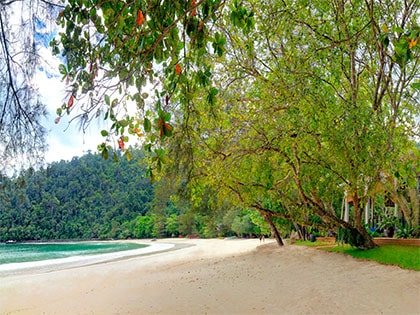 Enjoy a day at a quiet and private beach away from the normally crowded islands around Kota Kinabalu. Check-in at the Bunga Raya Island Resort's Lounge at the Jesselton Point Jetty before being transferred by boat to Gaya Island for a relaxing trip in a secluded part of the Island. Go snorkelling or kayaking if you feel like frolicking in the sea. Otherwise, simply spend the day relaxing under the sun.
---
Kudat: Cultural Experience at the Northern Tip of Borneo
A visit to Kudat is a visit to one of the most exciting places in Sabah. Kudat is the most northern district of Borneo and home to the Rungus people. More info about Kudat
---
Danum Valley Conservation Area & Tabin Wildlife Reserve (Lahad Datu)
Sabah's premier nature and wildlife destinations. Recognized as one of the world's most complex ecosystems, the forest in Danum Valley is home to endangered wildlife species like banteng, Asian elephant, Clouded Leopard, Orangutan, Proboscis Monkey and a vast range of low land fauna. The pristine rainforests attract some 340 birds, 124 mammals, 72 reptiles and 56 amphibian species. These rainforests also house some of the world's oldest, tallest and most diverse jungle trees, making it an enchanting destination for nature lovers.
---
Recommended Hotels
Shangri-La Rasa Ria Resort
Set amidst the idyllic Dalit Bay nature enclave, Shangri-La's Rasa Ria Resort & Spa is one of Sabah's best offerings, a resort with excellent facilities, topped with a view to kill for overlooking two miles of white sandy beach. This state-of-the-art resort boasts 499 rooms and a wealth of recreational facilities, ranging from a health club, an award-winning spa, restaurants offering local and international cuisines, an 18-hole championship golf course, 64-acre nature reserve and many more. Find more information about Shangri-La Rasa Ria Resort.
---
Shangri-La's Tanjung Aru Resort & Spa
Shangri-La Tanjung Aru Resort is located just 10 minutes from Kota Kinabalu International Airport. The resort offers family activities for all age groups and got its own private jetty with boats to the nearby islands with amazing coral reefs. The resort offers 6 restaurants and bars – including the Sunset Bar, renowned as one of the world's top seven places to watch the sunset. More about Shangri-La Tanjung Aru Resort
---
Bunga Raya Island Resort
Combining the two elements Sabah is mostly famous for rainforests and beaches – Bunga Raya Island Resort and Spa serves as the best destination for those looking for the best of both natural worlds. This resort's rustic spirit makes the experience a lot like a visit to tropical island utopia. The excellent water visibility also makes it perfect for water sports, snorkelling and having a warm dip in the sparkling azure water. More about Bunga Raya Island Resort
---
Borneo Rainforest Lodge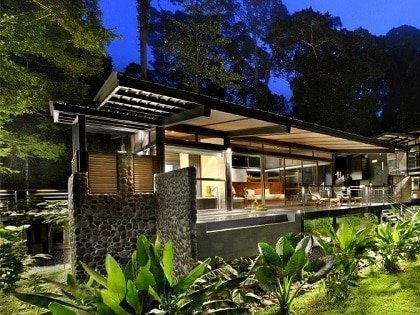 These glass and metal structured Premium Villa and Premium Deluxe Chalets combine minimalist and eco-sensitive designs offering stunning views of the pristine Rainforest.
Chalets are river fronting with their own private plunge pool, outdoor shower and a climate control system to ensure a comfortable level of humidity in the rooms.
Trekking into the Rainforests are guided to ensure quality interpretation by our in-house guides and we have a Spa offering Traditional Massages after your activities.
---
Sukau Rainforest Lodge
The award-winning Sukau Rainforest Lodge offers you the best of nature and wildlife adventure, whilst offering an eco-friendly accommodation with great modern services and facilities. Wake up to the sounds of birds singing and sounds of wildlife that you will never hear in the city! Go on a river cruise along the Kinabatangan River for a chance to spot rare endemic wildlife, such as the Proboscis monkey and the comely Bornean Pygmy elephant.
---
Sepilok Nature Resort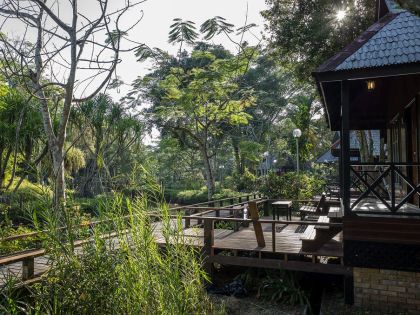 Located in Sepilok, Sandakan, which is the ecotourism epicentre of Sabah, the Sepilok Nature Resort offers the opportunity to enjoy an eco-friendly environment, surrounded by nature and wildlife. You can make arrangements to visit attractions such as the Labuk Bay Proboscis Monkey Sanctuary, Turtle Island Park, Kinabatangan River and Gomantong Caves from here.
---
Kinabatangan Wetlands Resort
A charming resort nestled in the wilderness of the Lower Kinabatangan floodplain, the Kinabatangan Wetlands Resort is surrounded by pristine freshwater swamps and mangrove forests. It is also internationally recognized as an important wetland area and an attraction for those who find solace in the presence of stunning wildlife. More about Kinabatangan Wetlands Resort
---
Hilton Kota Kinabalu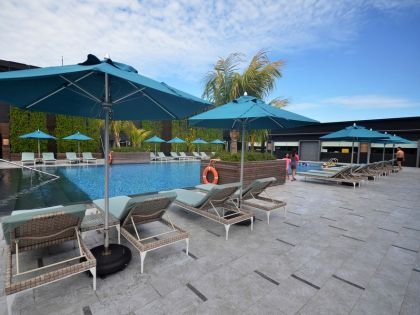 Boasting 4 dining options and an outdoor pool, Hilton Kota Kinabalu is located a short walk from Gaya Street Sunday Market and Filipino Market. Relax by the swimming pool while the children play in the kids' pool.
---
Gaya Island Resort
Gaya Island Resort is situated on Gaya Island 15 minutes from Kota Kinabalu, surrounded by lush tropical rainforest, white sandy beaches, overlooking the South China Sea. More about Gaya Island Resort.
---
Grandis Hotel Kota Kinabalu
This 188-room hotel situated in Suria Sabah Mall is the perfect retreat for those wishing to explore the area's eclectic shopping, dining, and tourist attractions. The hotel is outfitted with three dining areas: Rosea Café, Sky Blu Bar and the Piano Lounge. The most popular outlet will be the Sky Blu Bar which presents visitors a panoramic view of the cluster of scattered islands and glittering sea to relish a different kind of 'sunset experience'. More about Grandis Hotel.
---
Borneo Eagle Resort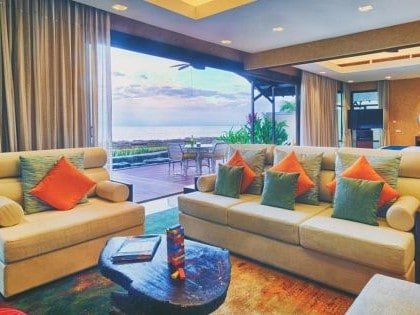 Welcome to the Borneo Eagle Resort, Pulau Tiga. Set in a pocket of paradise away from the hustling and bustling KK city, this luxury vacation destination is blessed with clear azure waters and white sandy beach in its surrounds, as well as magnificent coral reefs in the marine reserve. Take a short hike and you will find natural volcanic mud pools within the majestic rainforest all just waiting to be discovered.
---
Kota Kinabalu Marriott Hotel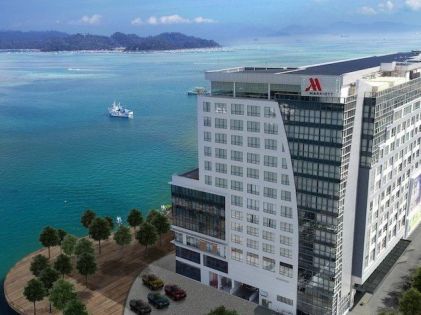 Set on the famed Kota Kinabalu Waterfront, a popular centre for dining and entertainment and 15 minutes from Kota Kinabalu International Airport, the Marriott Hotel indulges guests in panoramic views of the South China Sea, authentic local culinary delights and thoughtful service. Everything is designed to ignite your passion during your visit to Kota Kinabalu.
About Sarawak – Borneo
Sarawak the 'land of the hornbills' is the largest state in Malaysia and one of the two Malaysian states located on the island of Borneo. Sarawak is blessed with an extraordinary mix of ethnicities, the largest being the Iban people. Other local ethnic groups in Sarawak are the Bidayuh Melanau, Kenyah, Kayang and Orang Ulu.
Sarawak is famous for its beautiful national parks, the most famous is probably the UNESCO heritage site of Mulu National Park, where some of the world's largest limestone caves are found.
Other sites are Batang Ai and Baku National Parks, which are part of the region's largest trans-national protected area for tropical rainforest conservation.
Sarawak is also home to numerous species of wildlife, such as the famed rhinoceros hornbill, which is the state's National Bird. In the state capital of Kuching, you find the Semenggoh Orangutan Wildlife Centre.
Click to View - Recommended Tours & Hotels in Sarawak
Recommended Tours
Mulu National Park
Mulu National Park is by far the largest national park in Sarawak, with a sprawling area of 544sq.km. It is also Malaysia's first UNESCO World Heritage Site, a status awarded back in 2000.
The Mulu National Park is most famous for its limestone cave systems that include the world's largest natural chamber, the Sarawak Chamber.
Located in the lush rainforest adjacent to Mulu National Park, the 5-star Mulu Marriott Resort and Spa features stunning views and well-appointed rooms resting on raised wooden walkways. More about Mulu National Park & Mulu Marriott Resort
---
Bako National Park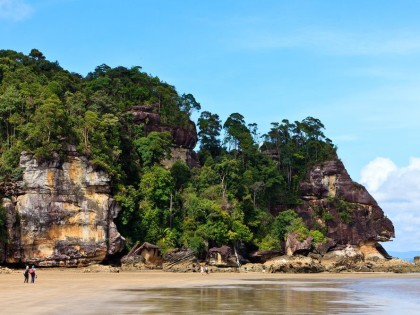 Situated within close proximity of Kuching city, the Bako National Park is one of the most beautiful parks in Malaysia. For nature lovers, the park is home to proboscis monkeys, silver leaf monkeys and long-tailed macaque, as well as numerous species of birds. In addition to its wildlife density, displays a wide variety of endemic Bornean floras like the carnivorous pitcher plants and wild orchids.
---
Kuching Cycling City Tour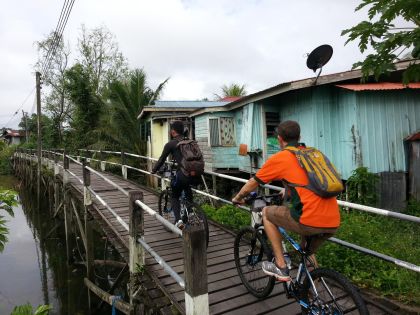 Have fun cycling to capture the sights, sounds and smells of Kuching. This is one of the best ways to explore whilst navigating through traffic and stopping at any attractions that you are interested in visiting. This tour ends with a boat crossing across the Sarawak River on a traditional water taxi.
---
Sarawak Cultural Long House Village Tour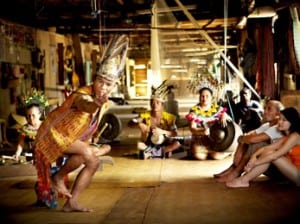 Experience the culture and unique lifestyle by visiting a local village. After touring the village, you can enjoy a multi-cultural dance performance.
---

Santubong Wildlife Cruise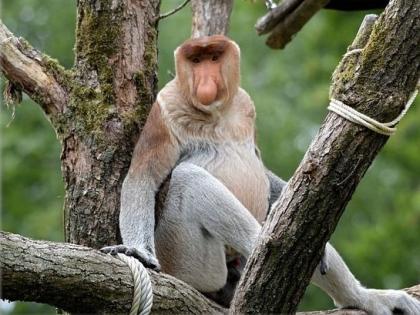 Enjoy adventure through the mangrove-lined rivers for a wildlife-spotting adventure. As it gets darker, you will be able to see the adorable Proboscis monkeys hanging out on treetops. Keep an eye out for crocodiles too, crawling on the mud banks or swimming in the calm waters.
---
Semenggoh Orangutan Rehabilitation Centre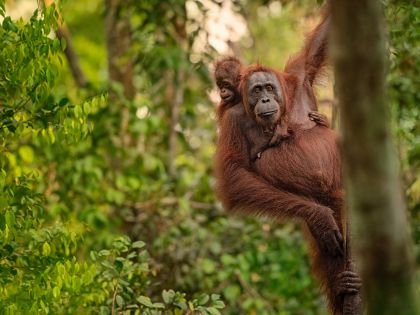 A sanctuary to some of Sarawak's protected wildlife, mainly the Orangutans. The entire facility occupies an area of 740 acres, the only remaining green belt near the city which acts as a sanctuary for orangutans. This rehabilitation centre serves as a temporary home for young orphaned primates and displaced orangutans rescued from captivity.
---
Recommended Hotels
The Ranee Boutique Suites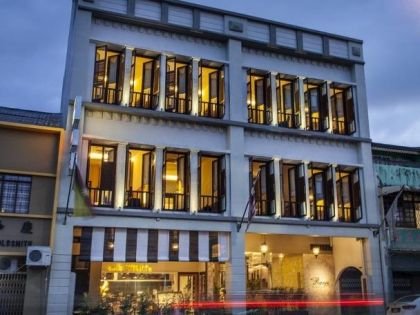 The Ranee is a boutique hotel in the centre of Kuching. Every spacious room is different – designed to express its own individuality, charm and character.  Step into The Ranee and you will be enchanted by the magic of old and new – a fusion style inspired by Sarawak's rich colonial heritage and mysterious ethnic cultures.
---
The Waterfront Hotel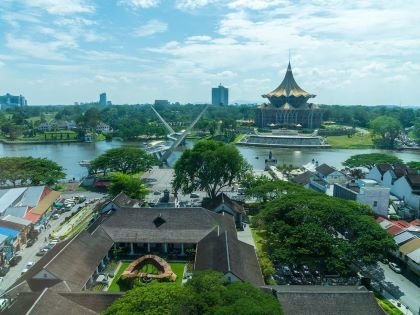 The Waterfront Hotel is situated in the centre of Kuching City, surrounded by both historic and modern buildings. It boasts a stunning view of the Padang Merdeka and Sarawak River, making it not only a place to stay but also an ideal starting point for exploring the city of Kuching.
---
Hilton Kuching

Situated in the middle of the city centre, nestled amidst the Kuching's bustling business and shopping centre, the Hilton Kuching maintains its resort-like ambience
and offers a breathtaking view of the Sarawak River.
---
The Village House

The Village House, a small boutique guesthouse with a Malay village vibe, is perfectly located in the friendly village of Santubong, half an hour drive from
Kuching. It is built as the perfect hideaway and is perfect for those who seek tranquillity.
---
Grand Margherita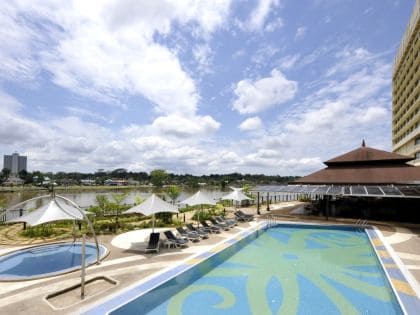 The hotel is beautifully located along the Sarawak River on of the scenic Kuching Waterfront near the city centre.
---
Damai Beach Resort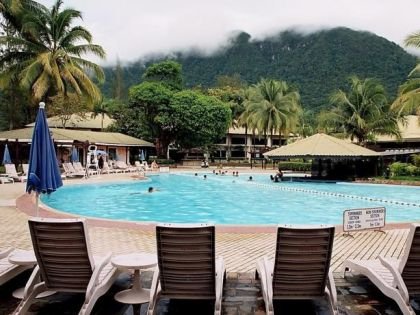 Facing the blue-green horizon of the South China Sea and standing mightily on the white sandy beach of Teluk Bandung is the Damai Beach Resort.
About Kuala Lumpur
Kuala Lumpur, KL in short, is the capital of Malaysia. Dotted with unique skyscrapers, cool architecture, and yet, an abundance of verdant greenery.
For the culture vulture, KL offers a sneak peek into the multicultural Malaysian life through its temples, old monuments, mosques, churches, and not at least street food, from the many hawker stalls. More about Kuala Lumpur.
Click to View - Recommended Tours & Hotels in Kuala Lumpur
Recommended Tours
Kuala Lumpur Heritage Tour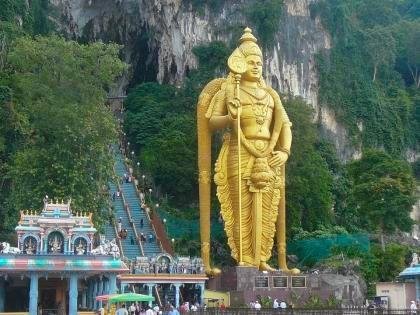 Explore the melting pot of Malaysian culture in the bustling KL metropolis with the KL heritage tour. Must-see places include Batu Caves, Jamek Mosque, the Central Market, Sin Sze Si Ya Temple, Sri Maha Mariamman Temple, Little India and Chinatown. This would be a great photography and shopping opportunity as well.
---
Kuala Lumpur Night Food Trail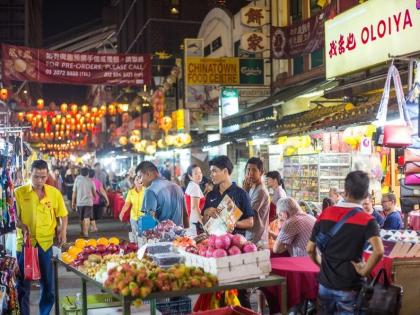 Being a rich melting pot of cultural diversity, Malaysia is renowned for its sumptuous array of gastronomic offerings, both local and international. Sink your teeth into local offerings, such as the famous Assam Laksa, Rojak, Cendol, Chee Cheong Fun and many more. Do not miss the hawker food while you're here.
---
KLCC Twin Tower Tour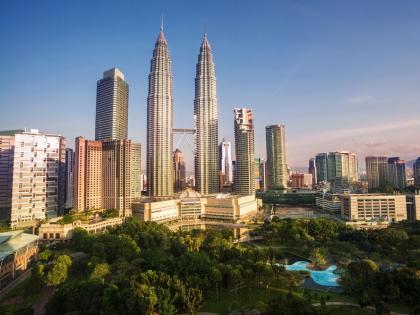 Discover more about the pride of Malaysia: the Petronas Twin Towers and enjoy panoramic views of beautiful Kuala Lumpur from the top of the city. Walk along the sky bridge of Petronas Twin Towers and admire the entire cityscape from the observation decks.
---
Melaka Historical Tour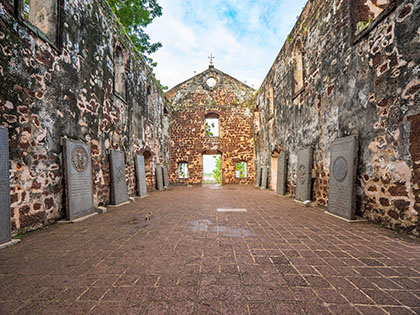 For the history buff and culture vultures, the historical city of Melaka has so much to offer, from beautiful colonial architectures and the vibrant Peranakan culture to the upbeat Jingling Nona dance of the Eurasian community. Make a point to learn more about old-world Malaysia through the city of Melaka.
---
Recommended Hotels
Melia Kuala Lumpur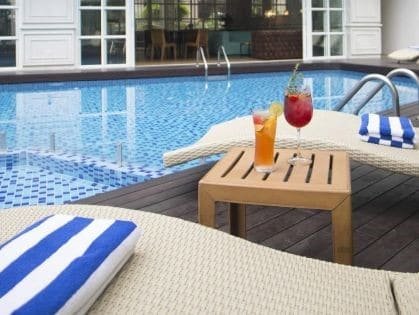 Located within Kuala Lumpur's prime attractions, shopping malls, heritage row, art galleries and flourishing business hubs, such as The Petronas Twin Towers, Kuala Lumpur Tower, and Pavilion KL shopping mall.
---
The Ritz-Carlton Kuala Lumpur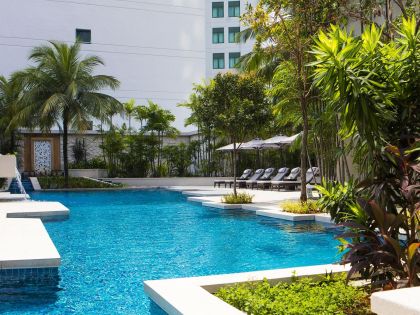 Luxurious, elegant rooms and residences in Kuala Lumpur's Golden Triangle District, a 5-minute walk from Pavilion Mall. Bukit Bintang is a great choice for travellers interested in entertainment, markets and family-friendly trips.
---
Stripes Hotel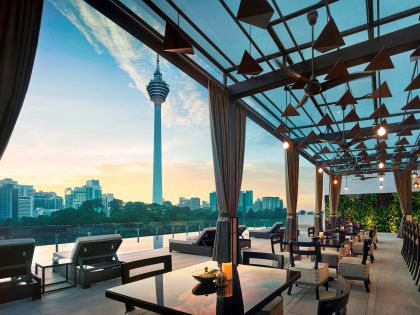 Located within the hustle and bustle of the city centre, it features an outdoor swimming pool and guests can enjoy meals at the in-house restaurant or have a drink at the bar.
---
Mandarin Oriental Kuala Lumpur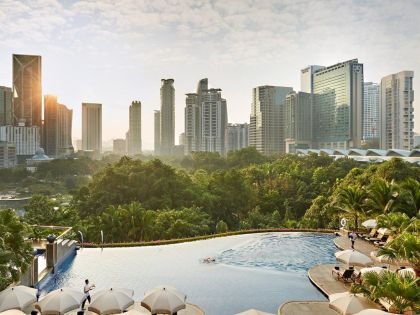 Stylish and luxurious, elegant rooms and residences in Kuala Lumpur overlooking the city skyline and KLCC Park. As a five-star luxury hotel in the heart of the city, there is no doubt you will be awed and inspired by the elegant interiors, spacious rooms and a wealth of dining options.
About Langkawi
Made up of 99 islands on the west coast of Malaysia, the archipelago of Langkawi surrounds itself with sparkling turquoise sea, with soft white sands, fringed by swaying palm trees.
Aside from being a sought-after beach destination, Langkawi is also recognized as a UNESCO Global Geopark site, due to its rich archaeological and biological heritage, which is managed according to a global concept of protection, education, and sustainable development.
For adventure seekers, Langkawi offers excellent boat, kayak, cycling, diving, and trekking tours.
Click to View - Recommended Tours & Hotels in Langkawi
Recommended Tours
Mangrove Boat Excursion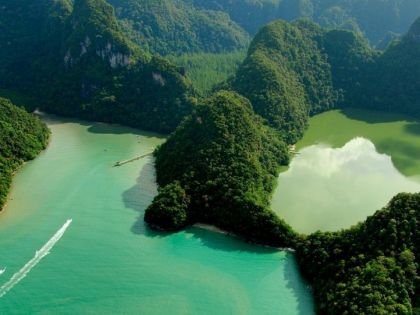 Get close to the amazing mangroves of Langkawi's UNESCO Geopark. See limestone outcrops, caves, a fossil location and a lot of amazing plants. You might be lucky to watch the monkeys, eagles, otters, other special birds or monitor lizards during this ride through the mangroves.
---
Jungle Trekking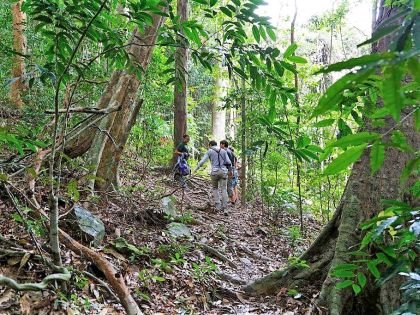 Trek into the tropical rainforest and explore the amazing the nature of Langkawi. The nature guide will show you some of Langkawi's 400 tree species with a height up to 70 metres, birds, butterflies and mammals.
---
Sunset Dinner Cruise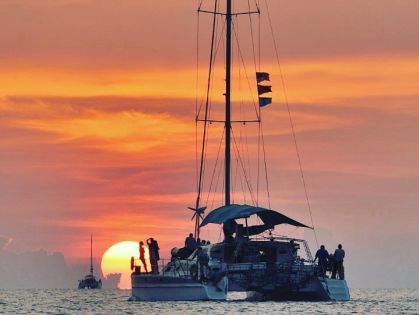 On this cruise, you will experience some chill cruising and beautiful scenery around the Southern out-lying islands. Calm water, wind in your hair, BBQ Dinner, and free flow from the bar. There will be countless opportunities to take beautiful pictures of the islands and the tropical sunset when the sun sets on the horizon.
---
The Old Langkawi Charm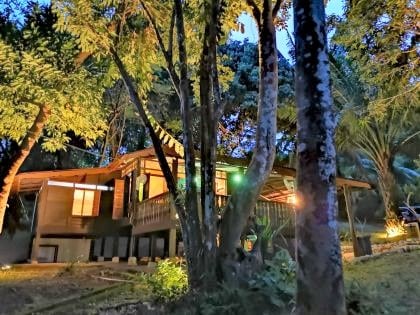 This is a tour back in time to experience the traditional culture and way of living in Langkawi and at the same time try to cook some traditional meals. On the walk to the village house, you will be passing rice fields and the typical Langkawi water buffaloes. After a walk around the village, you will start preparing some delicious local dishes and enjoy the home-cooked meals on the veranda.
---
Nature Cycling Tour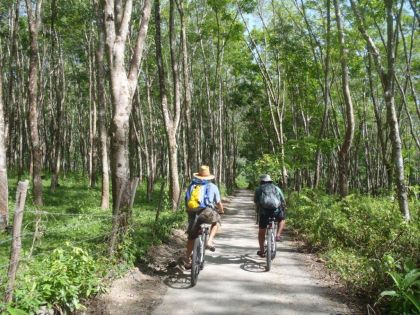 Ride a bicycle through river banks, rice fields and forests. You will experience Langkawi from a totally different point of view and experience things you normally would not see from a car.
---
Recommended Hotels
Holiday Villa Langkawi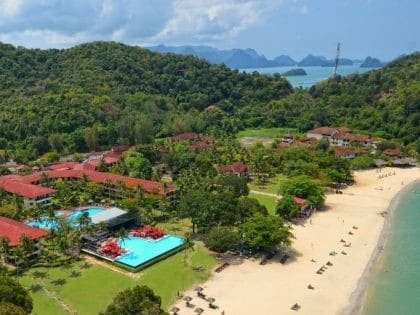 This beachfront resort is located on one of Langkawi's prime beaches. Enjoy perfect 15 acres of beachfront land. Only 15 minutes away from Langkawi International airport, and the Cenang shopping and entertainment area. The resort offers spacious rooms, open spaces and breathtaking views, ideal for children, families and honeymooners.
---
Meritus Pelangi Beach Resort & Spa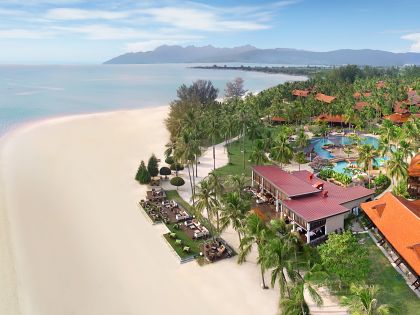 The perfect retreat for those looking for tropical tranquillity and ethnic charm. Situated on the white sandy shores of the famed Cenang Beach, the 14-hectare resort fronts a kilometre-stretch of private beach. Perfect place to relax in a balmy, seaside setting.
---
Casa Del Mar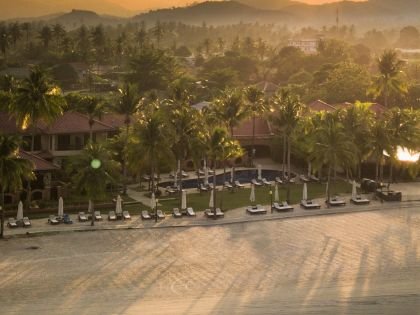 A 4-star, boutique resort located on the beach at Pantai Cenang. Offering all sea view accommodations in the tourist area of Langkawi, walking distance of local restaurants, bars, and shops. It feels more like a home than a resort and makes for a peaceful beachside holiday.
---
The Andaman – A Luxury Collection Resort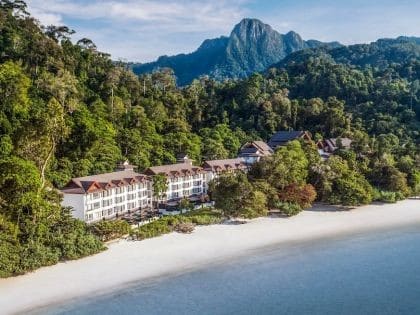 The Andaman, a Luxury Collection Resort, Langkawi is nestled in the lush rainforest with panoramic sea views and a private beach. The spacious and airy units feature a private balcony overlooking the garden, rainforest or the sea.
---
The Datai Langkawi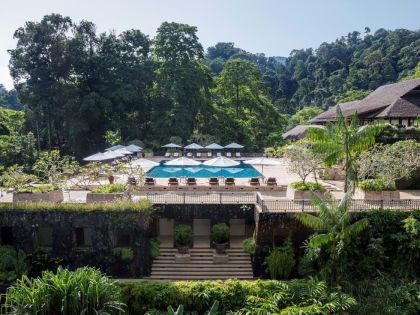 The Datai Langkawi is situated on the northwest tip of the island Langkawi in Malaysia. Located in a 10-million-year-old rainforest and overlooking the tranquil Datai Bay, awarded by National Geographic as one of the Top 10 beaches worldwide, the iconic property enchants with mesmerizing nature, visionary architecture, luxury and bespoke service.
---
Four Seasons Resort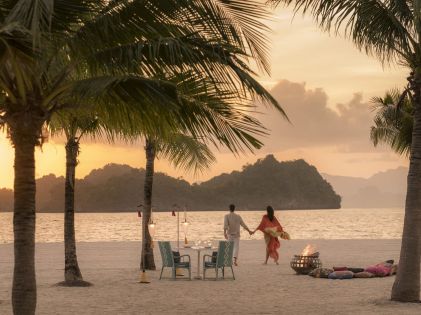 With artful design and all-pervading serenity, Four Seasons Resort Langkawi presents a tranquil retreat in the Andaman Sea, where UNESCO-protected mangroves showcase labyrinthine adventures between land and sea.
About Penang
Penang Island, known as the 'Pearl of the Orient', offers a fascinating amalgamation of East and West. One of the most visited destinations in Malaysia, Penang offers a touch of modernity while remaining engulfed in its unique old-world charm. Penang is locally known as the 'food capital' of Malaysia, home of the famous Nasi Kandar and Penang Char Kuey Teow, thanks to its melting pot of cultural diversity.
The beautiful historical core of George Town has been inscribed as a UNESCO World Heritage Site since 2008.
The two main areas to stay in Penang, is George Town, with all its history, culture, and lively hawker life at night. The other area is on the north side of the island, in Batu Ferringhi, which is where the beach resorts are located.
Click to View - Recommended Tours & Hotels in Penang
Recommended Tours
George Town & Penang Island Explorer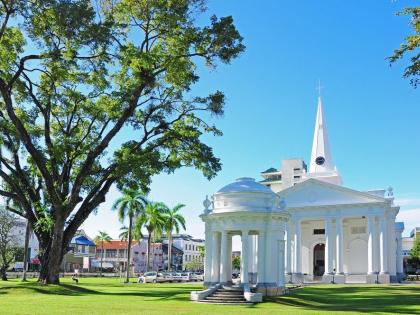 Visit the most famous attractions in George Town. Ride rickshaw, and visit places like St Georges Church, Goddess Of Mercy Temple, Joss Stick Maker, Little India, Sri Mahamariaman Temple, Kepitan Kling Mosque, Street Art, and Khoo Kongsi. Continue to explore the island inclusive a visit to the Kek Lok Si Temple in central Penang.
Recommended Hotels
Areca Hotel
Conveniently situated within the UNESCO World Heritage buffer zone, Areca Hotel offers families and travellers the opportunity to experience the rich history and vibrant culture that George Town and Penang has to offer.
---
PARKROYAL Penang Resort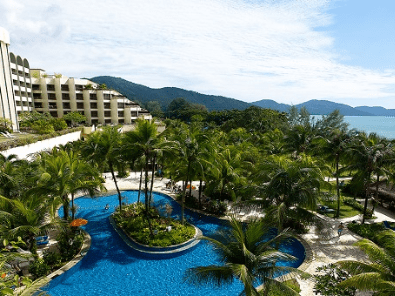 Discover a tropical retreat along the Batu Ferringhi beach. Set in Batu Ferringhi, the island's finest stretch of beach, PARKROYAL Penang exudes a unique "East meets West" charm. It is your private hideaway abundant with a kaleidoscope of facilities for the young and old.
---
Yeng Keng Hotel

Once an Anglo-Indian bungalow residence in the 1800s, was restored and now one of the best-restored properties in George Town.Elegant and stylish, our 19 rooms and suites guarantee comfort and exclusivity
---
The Edison George Town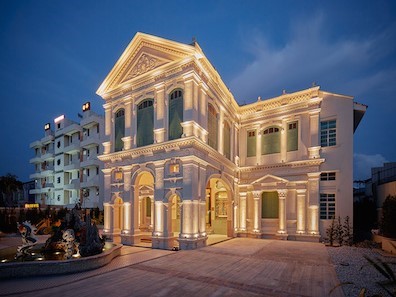 This boutique hotel boasts a chic common area, a bright courtyard and a swimming pool. A meticulously restored Colonial mansion set in the heart of historical George Town, Penang.
---
Shangri-La's Rasa Sayang Resort & Spa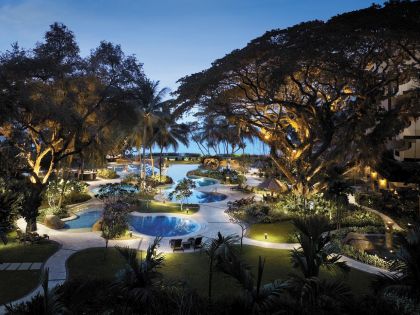 Overlooking Batu Feringghi Beach, Shangri-La's Rasa Sayang Resort & Spa, Penang offers spacious rooms surrounded by 30 acres of tropical gardens.
---
Hard Rock Hotel
Hard Rock Hotel Penang is iconic, bringing the multicultural Penang to new heights with its authentic Hard Rock experience. It's fun atmosphere and clean, modern lines make this the ultimate rock retreat for all.
---
Eastern & Oriental Hotel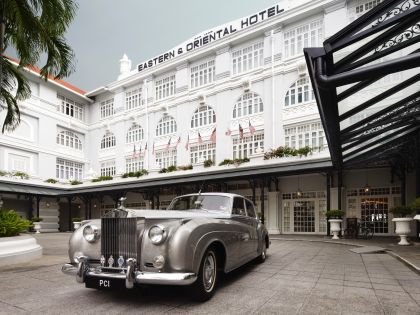 Known simply as `The E&O' – has stood as a testament to the grand elegance of the British colonial era. Also, come to represent Penang itself; its story is inextricably woven into the island's history.
---
Seven Terraces Hotel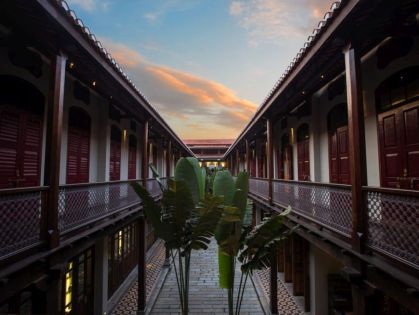 Built in the late 19th century, Seven Terraces was a contiguous row of Anglo-Chinese terrace houses located just behind the Goddess of Mercy Temple. The row of houses today is a sterling splendid example of adaptive reuse of heritage buildings that were of low density and low impact.
About Perhentian Islands
The Perhentian Islands comprises of two separate islands, namely Pulau Perhentian Kecil, Smaller Perhentian Island, and Pulau Perhentian Besar, Greater Perhentian Island.
The islands are perfect for relaxing on the beach, snorkelling, and diving. More about Perhentian islands
Click to View - Recommended Tours & Hotels on Perhentian Islands
Recommended Hotels
Bubu Resort & Bubu Villa
Bubu Beach Resort and Bubu Villa are located at Long Beach of Pulau Perhentian Kecil, the smaller of the two main Perhentian islands. With its 700 metres of gently sloping powdery white sand and crystal-clear turquoise waters, Long Beach is the best beach in Perhentian. More about Bubu Villa and Bubu Resort
---
Tuna Bay Island Resort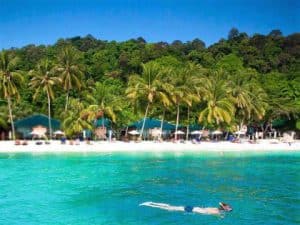 Tuna Bay Island Resort is located on Pulau Perhentian Besar, the bigger island. It occupies a quiet, untouched part of the island surrounded by tropical jungle, on a broad expanse of powdery white sand and blessed with turquoise blue sea, and an amazing house coral reef right on the doorstep. The resort commands a breathtaking view of Pulau Perhentian Kecil and the South China Sea.
---
Alunan Resort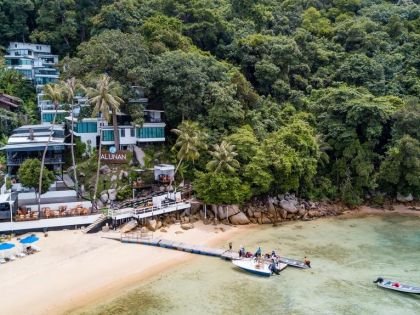 The resort is tucked away on a secluded beach. Stay in double-storey, modern suites with stunning views, and private rooftop sun decks.
---
Perhentian Island Resort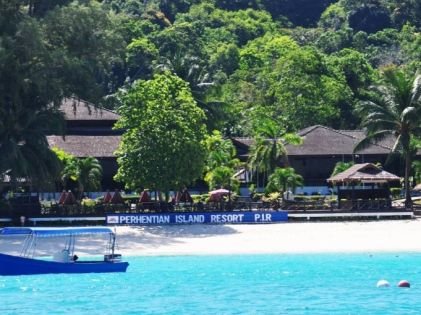 Perhentian Island Resort is a beach resort surrounded by lush greenery, facing white sandy beaches and a warm blue sea. The resort is fronting a coral-rich bay.
About Redang Island
Redang Island is a famous holiday and scuba diving destination, renowned for its turquoise clear waters, powdery-white sandy beaches, and diverse tropical marine life.
The largest beach on the island, Pasir Panjang, which is located on the east side, features half a dozen resorts. On the north side of the island, you find The Taaras Resort & Spa, which is located at a secluded beach, away from the rest of the island.
Click to View - Recommended Tours & Hotels on Redang Island
Recommended Hotels
Coral Redang Island Resort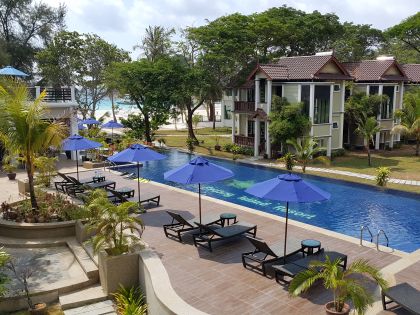 Cosy beachfront resort at the most popular beach on Redang Island. Many repeaters return to this resort year after year.
---
The Taaras Beach & Spa Resort
The Taaras is tucked away and hidden from the outside world on a small island found. Considered to be one of the most beautiful island locations in the South China Sea, the island of Redang is home to the Taaras – a natural yet stylish resort found on one of the most spectacular bays surrounded by one of the bluest oceans on the earth.
The Taaras is located at a secluded and private beach on the north side of Redang Island.
About Rawa Island
Rawa Island is an idyllic tropical island paradise, that lies on the east coast of Johor, in Peninsular Malaysia. The island is surrounded by crystal clear turquoise water, white powdery sand, and forest vegetation inland.
The island has only one resort, and Rawa Island Resort is especially popular with families but even many couples visit. More about Rawa Island Resort 
About Tioman Island
Tioman Island, an ecological paradise island off the east coast of Peninsular Malaysia. It is a perfect destination for sun-seekers and adventurers, with swaying coconut trees, white sandy beaches and cool waterfalls cascading down rocky slopes and beautiful rustic villages. The underwater world around the island is a vast marine treasure trove, absolutely stunning with a myriad of colourful fish. Many activities are available for visitors such as snorkelling, scuba diving, boating and water-skiing.
Click to View - Recommended Tours & Hotels on Redang Island
Recommended Hotels
Tunamaya Beach Resort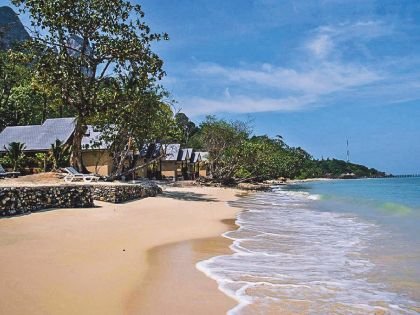 Tunamaya Beach & Spa Resort is a boutique resort located in an idyllic
secluded location on Tioman. Suitable for families and couples looking for an island escape.
---
Japamala Resort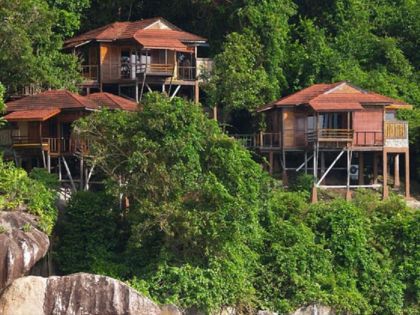 Japamala Resorts – By Samadhi is located on beautiful Tioman Island. It is
in the middle of tropical rainforest. The resort is built as Eco Friendly luxury treehouses and cliff-clinging chalets.
About Taman Negara National Park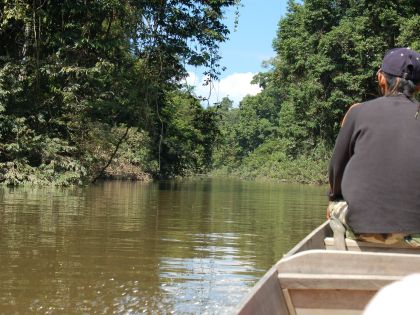 Experience and explore one of the world's oldest tropical rainforests at Taman Negara National Park. The 130 million years old virgin rainforest is waiting to share its beauty.
Click to View - Recommended Tours & Hotels in Taman Negara
Recommended Tours
Taman Negara National Park is the perfect place if you love the rainforest and outdoor activities.
The standard packages are 3 days 2 nights, or 4 days 3 nights. The packages usually include; stay, tours, guides, meals, and transfers to and from Kuala Lumpur. If the pick-up or drop-off points are different from Kuala Lumpur, the packages can be customized.
---
Recommended Hotels
Mutiara Taman Negara
The Mutiara Taman Negara Resort has a superb rainforest setting overlooking the Tembeling and Tahan rivers. Being the only Resort inside the National Park boundary, it is an ideal place from which to explore the surrounding area. Accommodation is in comfortable Malaysian-style wooden chalets with hot and cold showers, air conditioning, television, mini-fridge, coffee & tea making facilities and ceiling fans.
About Ipoh
Ipoh's popularity has grown significantly over the years, boosted by its historical British colonial-era architecture. With its strategic location, Ipoh is a very good place for a 1 or 2-night stopover when travelling between destinations such as Kuala Lumpur, Belum and Penang. The city is also well known for its cuisine and natural attractions, such as its limestone hills and caves where Buddhist temples were built inside. More about Ipoh.
Click to View - Recommended Tours & Hotels in Ipoh
Recommended Tours
Ipoh Heritage Walk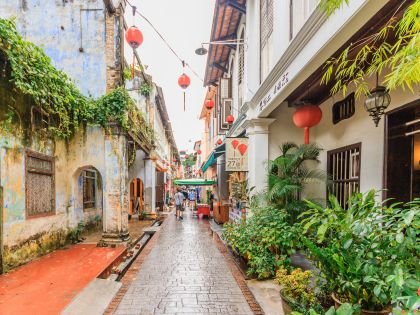 Visit the colonial "The Taj Mahal of Ipoh", Ipoh Town Hall, and Ipoh High Court. Passing through the Birch Memorial Clock Tower and admiring the old commercial district and old shophouses. Twist and turn through the old streets, stopping by at some street art/wall murals to pose for some more photos.
Learn about how tin miners entertained themselves to get over the hard-stressful life at the Concubine Lane. And admire the beauty of nature mixed with man-made structures in cave temples unique to Ipoh (Sam Poh Tong and Kek Lok Tong).
---
Recommended Hotels
The Banjaran Hotsprings Retreat
Built around the beauty of nature, The Banjaran Hotsprings Retreat is Ipoh, Malaysia's first luxury natural hot springs wellness retreat offering bespoke holistic experiences for ultimate relaxation, restoring overall wellbeing, finding inspirational ideas, rekindling romance, hosting the wedding or events of your dreams and more. More about Banjaran Hotsprings Retreat.
About Belum Rainforest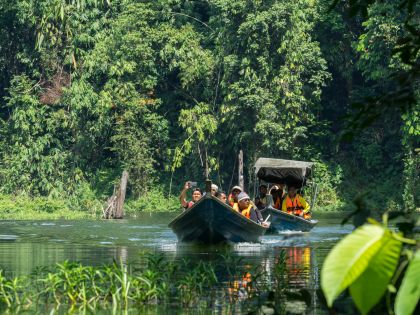 Belum Rainforest Resort is located within the peaceful Belum-Temengor Rainforest in Pulau Banding, Gerik, Perak. One of Malaysia's premier eco-tourism holiday destinations. Perfect for nature lovers and travellers looking to experience the rainforest and beautiful nature. Complete relaxation and serenity, stunning views and surroundings, adventure and the chance to get close to nature.
About Pangkor Laut Island
Nestled amidst an ancient rainforest on Pangkor Laut Island, on a private island fringed by white sandy beaches and emerald waters is the Pangkor Laut Resort. Declared a paradise by the late Pavarotti and previously voted 'Number One in the World' by Condé Nast Traveller; here, wooden buildings blend seamlessly into the forest, walls curve around foliage and roofs open up to allow trees to continue on their journey to the sky.
About Cameron Highlands
Cameron Highlands is a collection of peaceful townships, perched almost 2000 meters above sea level, on a nest of serene mountains. The sea of tranquillity, pleasant landscapes, and cold climate impart a special experience upon the multitudes of visitors. More about Cameron Highlands here.
Click to View - Recommended Tours & Hotels in Cameron Highlands
Recommended Tours
Cameron Highlands Experience Tour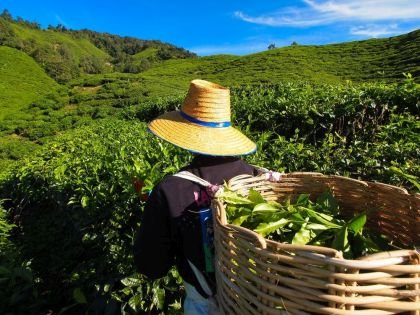 Hop into the Land Rover and cruise along with the picturesque rolling tea garden toward 2000 m above sea level, The Gunung Brinchang. Listen to the guides 'tea talks' while enjoying the breathtaking view of the tea garden and visit to the tea factory. Trek with the guide into the Mossy Forest and learn about some of the exotic floras, like the Pitcher plant, Orchids, Primitive Ferns, Spices and Medicinal Plants.
---
Recommended Hotels
Strawberry Park Resort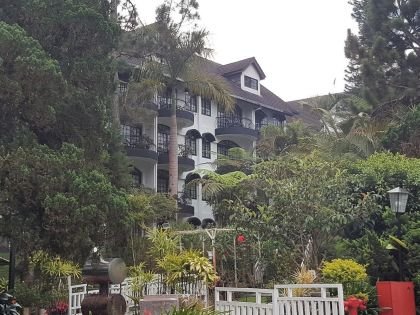 The Strawberry Park Resort is ideally located amidst a 7-acre hill between Tanah Rata and Brinchang. The cool temperature and fresh air in Cameron Highlands make it an ideal retreat for travellers.
Borneo & Malaysia Holiday Packages