Your Guide to Sabah, Borneo's 10 Best Islands
Your Guide to Sabah, Borneo's 10 Best Islands
There are a total of 878 islands in Malaysia and Sabah records the most number of islands with 394, among these islands, about 182 are still unnamed, which only means that there is still more for us to discover! With its beautiful white sandy beaches and azure blue waters, the islands in Sabah are part of the reason why many flocks to Sabah for holidays. Check out the top 10 islands in Sabah, in no particular order:
1. Sipadan Island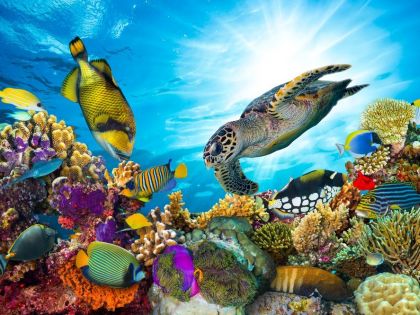 An oceanic island with rich underwater biodiversity, and known as one of the best diving destinations in the world, Sipadan is definitely Sabah's well-preserved assets. Nominated as one of the 7 Wonders of the World, Sipadan Island is a must-see once you've swung by Semporna
---
2. Kapalai Island
45 minutes speedboat ride away from Semporna lays the breathtaking island of Kapalai, one of the heavenliest resorts around Semporna with an excellent diving spot, surrounded by crystal clear waters. Not quite an island by qualification, Kapalai is built on high wooden stilts in the middle of the ocean where visitors can drink in the superb ambience of its surroundings.
---
3. Lankayan Island
Lankayan, a tiny jewel-shaped island located on the northeastern coast of Sabah, is part of the Sugud Islands Marine Conservation Area (SIMCA) and is surrounded blue-green waters and coral reefs. One of Sabah's top diving spots, Lankayan Island has 14 dive spots including the Lankayan Wreck only minutes away from the island.
---
4. Mabul Island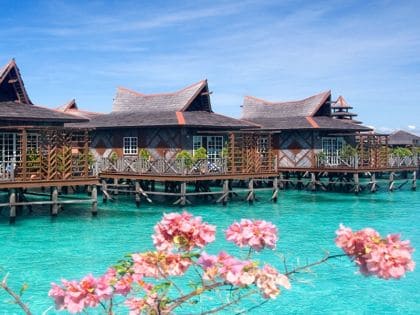 Mabul Island is a small oval-shaped island fringed with while white sandy beaches, with coconut trees dancing to the breeze beckoning you to come for a visit. Besides being one of the best muck-diving spots in the world, Mabul also offers plenty of fun times for non-divers, try the spa or cycling around the beach, for instance.
---
5. Mataking Island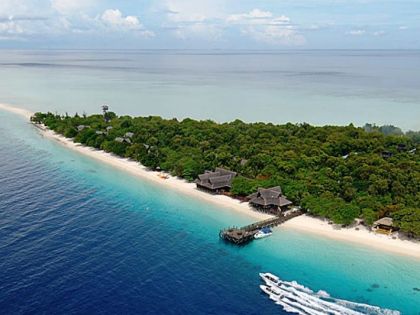 Hopeless romantics take heed! Mataking Island is one of the best romantic getaways you can escape to in your lifetime. Perfect for new couples scouring for a fantastic honeymoon destination, old couples looking to rekindle romance, or just simply people who want to get away from the hustle and bustle of the city for sanity's sake.
---
6. Pom Pom Island
An island with a laid back and casual ambience, as the name alludes, Pom Pom is situated circa 45 minutes away from Semporna. Apart from the gorgeous glittering white sandy beach that surrounds it, Pom Pom Island is also filled with lush green mangroves that keep it shady and cool.
---
7. Mantanani Island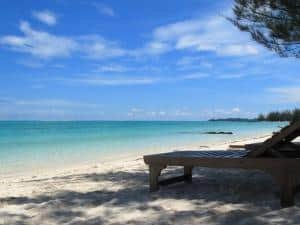 The demure island of Mantanani lies off the beaten tracks of other mainstream tourism destinations. The journey to the island begins with a two-hour drive to Kampung Kuala Abai jetty in Kota Belud, followed by another hour of riding on a speedboat. Each dive site in Mantanani offers something unique. Other than sporadic encounters with dolphins, divers have also encountered some of the rarer underwater species such as the bumphead parrotfish, moray eel, stingray, eagle ray, and several turtles.
---
8. Manukan Island
This 51-acre boomerang-shaped island is the second largest island in Tunku Abdul Rahman Park. Equipped with 20 units of chalets, a clubhouse, restaurant, souvenir shop, diving centre, and recreational facilities; Manukan Island is considered the most mainstream and popular island of the five. With amazing stretches of beaches along the southern coastline, it's almost a cardinal sin to not lay back on your beach towel sipping piña colada. Craving for some wet and wild adventure? Opt to go scuba diving, parasailing, jet-skiing, wakeboarding or even seawalking.
---
9. Sapi Island
Deemed as one of the nicest and cleanest islands in the Park, Sapi is a small 25-acre island adorned with soft golden sand, crystal clear azure water and coral reefs fringing the shoreline. It has a way of enticing water lovers to just jump in and frolic in the sea. Want to go underwater sans briny wet hair? Sign up for a seawalking adventure instead. Picnic shelters, barbecue pits and changing rooms and toilet facilities are available here.
---
10. Pulau Tiga 'Survivor Island'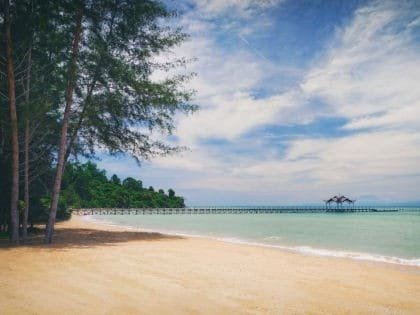 Renowned for its therapeutic volcanic mud, Pulau Tiga is a secluded island located in the offshore of Kuala Penyu. From Kota Kinabalu, you will be required to take a two-hour drive to Kuala Penyu and hop on a boat for a 20-minute boat cruise to Kuala Penyu. Pulau Tiga is also known as 'Survivor Island', due to its claim to fame being the location for the first 'Survivor' reality series. Apart from its great stretch of beach, Pulau Tiga is also a famed diving spot.
---
Popular Borneo & Malaysia Packages