14 Days / 13 Nights
Inle Lake – Fishermen and floating villages
Mandalay – Ancient capital with Mandalay Hill
Bagan – 4000 Pagodas
Ngapali – Unspoiled white beaches
Yangon's scenic sights including the gold and gemstone covered Shwedagon Pagoda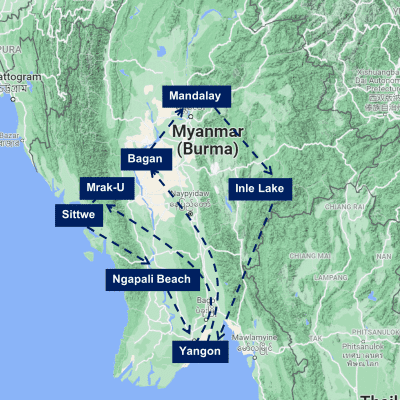 Day 1: Arrival Yangon
When you arrive in Yangon, our representative will meet you at the airport for your transfer to your hotel.
The adventure starts with an afternoon tour through Yangon's colonial-style city centre and a visit to the golden Sule Paya stupa. It was the focal point of various historical events in the city and was constructed over 2,000 years ago.
You will also get to visit the Chauk That Gyi pagoda for its magnificent reclining Buddha, and Karaweik Hall near the Kandawgyi Lake to see the 'hamsa-bird-shaped' floating barge. At Bogyoke Market we'll get lost in a maze of colour made up of hundreds of stalls selling gemstones, handicrafts, art, clothes and food.
We will wrap up day-1 with a visit to an iconic symbol of Myanmar, the Shwedagon Pagoda, one of the world's most spectacular monuments that legend would have us believe enshrines the sacred hairs of Buddha.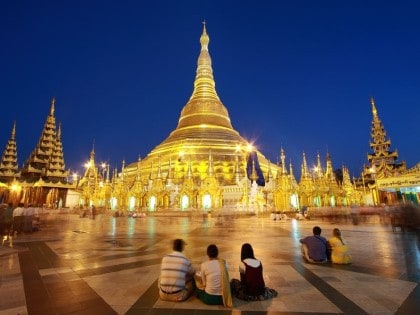 Included: Accommodation Yangon, Entrances, Yangon Tour, English Speaking Guide & Airport Transfer
---
Day 2: Yangon – Bagan
We will transfer back to Yangon airport after breakfast, for a short one-hour flight to Bagan for the exploration of the Ancient Kingdoms of Bagan. We will make our first stop at the Dhamayazeka Zedi to take in panoramic views of Bagan's plains dotted with temple ruins.
At the Swezigon Stupa, where purportedly Buddha's tooth is housed, we'll find the Myingaba Gu Byaukgyi Temple. It's home to the plain's best-preserved mural painting of Buddha's Jataka reincarnations.
Next, we head to Myingaba Village to learn how Bagan's famous lacquerware crafts are produced and then learn about Burmese sand paintings at the Htilominlo Temple.
Our day ends with a visit to Ananda Temple, which is beautifully symmetric and majestic with its four Buddha images that gaze at the viewers with fixed serenity from any angle.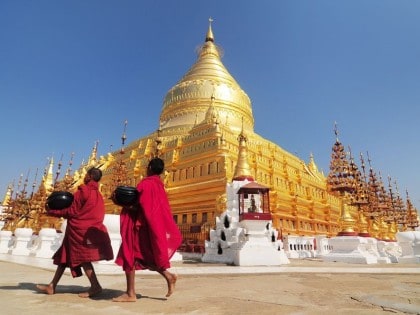 Included: Accommodation Bagan, Airport Transfers, Flight Ticket Yangon – Bagan, & Tour Bagan
Meals: Breakfast
---
Day 3: Bagan – Mandalay
It's an early rise today as we're off to the airport for a short flight from Bagan to Mandalay and then a one-hour road trip to Zegyo Market. It's the heart of the city, beating with authentic local life.
We'll journey onwards to the Artisan Quarters where craftsmanship dating back to the last kingdom of Myanmar is on display. We'll observe gold leaf pounding, detailed carvings of teak wood and Myanmar tapestry embroidering. We also gain insight into the carving, casting and melting process of bronze and marble Buddha statues.
Next on the itinerary is one of Mandalay's highlights, the sacred Mahamuni Pagoda, home to the most significant Buddha images in Myanmar. It's covered in tons of gold leaf, a once sought after prize amongst Myanmar's warring kingdoms. We continue to the only royal palace building surviving in Mandalay, the Golden Palace Monastery that showcases Myanmar's original royal style and architecture.
Lastly, we will visit the Kuthodaw Pagoda, home to Buddha's teachings carved in sacred Pali script on stone slabs, regarded as the largest book in the world based on the surface area. Our day draws to a close at sunset with views of Mandalay's panoramic city skyline from the highest point in the city.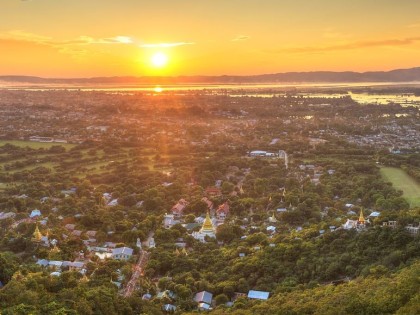 Included: Accommodation Mandalay, Airport Transfers, Flight Ticket Bagan – Mandalay, Tour Mandalay & English Speaking Guide
Meals: Breakfast
---
Day 4: Mandalay Tour
Following breakfast, our exploration of Myanmar's Ancient Kingdoms continues.
A short journey to the ancient capital of the Shan and Burmese Kingdoms, Ava (Inwa) brings us to the Myint Nge River, which we'll cross by ferry.
On the other side, we'll explore Ava's small roads by horse cart and visit Bagaya Teak Monastery, which is more than three centuries old, yet perfectly preserved and still in use by local monks.
We will also visit the last standing structure of the Ava dynasty palace compound known as the Leaning Tower of Ava, Nanmyin Watch Tower, and Maha Aungmye Bonzan Monastery with its graceful archways.
Next, we move on to the Ancient Kingdom of Sagaing across the mighty Irrawaddy River. We will soak up beautiful views from Sagaing Hills from where we can see countless pagodas. At a monastery in Sagaing, we gain insight into the life of Buddhist devotees before visiting the nearby Silversmith Village.
Our next stop is at Amarapura, another beautiful ancient capital city, famous for weaving and textile industries. At this cottage industry workshop, we will learn about longyis and Myanmar's other traditional fabrics.
Lastly, we journey on to Ubein Bridge a simple yet solid teak wood structure spanning a distance of 1.2 kilometres over the Taungtaman Lake. One of Myanmar's magical experiences and a photographer's dream, the bridge transforms in the light of the setting sun, a sight to behold.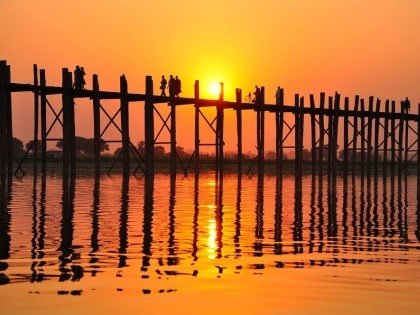 Included: Accommodation Mandalay, Tour & English Speaking Guide
Meals: Breakfast
---
Day 5: Bagan – Inle Lake
This morning we are off to the quiet transit town of Heho, nestled in the hills of Shan State.
On market day, the Heho Market is a bustling meeting point for different ethnic minority groups to trade their good and produce. We will visit the market on the way to Inle Lake, and also stop at a local family workshop to learn about Shan umbrellas and the traditional methods of making paper, using mulberry tree fibres.
Our one-hour drive to Inle Lake takes us through mountainous valleys and rice paddy fields. Near Inle Lake, we will visit the Red Mountain Wine Estate, a lush vineyard on the side of the mountain.
We will sample Myanmar's premier wines and observe some of the winemaking processes. We then check into our hotel before exploring Inle Lake, which is full of floating islands made of naturally tangled roots of water hyacinth plants and reeds.
Marvel at the picturesque sights of fishermen who balance and row with one leg, a unique technique only used here on Inle Lake by the indigenous Inn Thar minority people.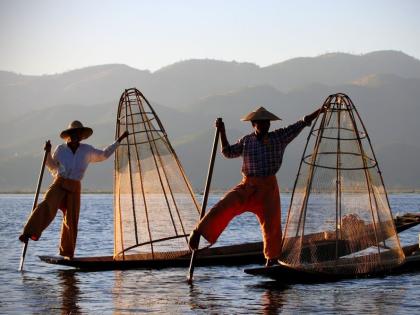 Included: Accommodation Inle Lake area, Flight Ticket Mandalay – Heho, Tour & English Speaking Guide
Meals: Breakfast
---
Day 6: Inle Lake
Following breakfast, our mode of transportation this morning is by boat. We will follow a small river to the Inn Thein Pagoda Complex, a site that will make us feel as if we have stepped back in time.
To reach the complex we will walk through bamboo groves that open up to reveal a field covered with 1,000-year-old pagodas.
After marvelling at the beautiful sights and scenery, we will head back to the lake to visit Phaungdaw Oo Pagoda, home to some of Myanmar's most sacred Buddha statues, which devout followers have covered in gold leaf.
Stopping by Inpawkhon Weaving Village, we will learn about locally crafted silks, linens and lotus fabrics, and as an extra treat, we stop at a Burmese Cat house built over the lake to observe efforts to preserve and reintroduce this rare, pure breed feline endemic to Myanmar.
Next, at Nampan Village, local craftsmen will demonstrate the packing and rolling of 'cheroots', which are local Burmese cigars. We take to canoes with local boatmen who gracefully navigate the lake on one leg, while we relax and enjoy the sun setting at the end of our day.
Optional Extra: Inle Lake markets
One of Inle Lake's highlights is the colourful, bustling morning markets. Ethnic minority groups come from far and wide to trade, creating the opportunity to observe people in traditional wear in an authentic market atmosphere. The market rotates locations five days a week (except when it's closed on public holidays), each day using a different village as based. We can include market visits in any tour program if the market falls within proximity of our itinerary.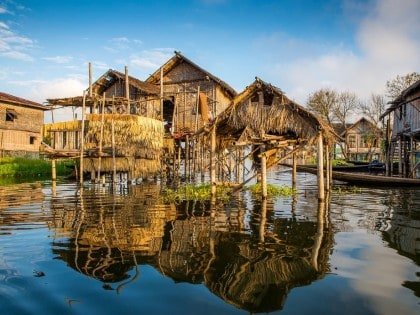 Included: Accommodation Inle Lake area, Tour & English Speaking Guide
Meals: Breakfast
---
Day 7: Inle Lake – Yangon
Wake up and start your day at leisure and use the free morning to explore on your own. We can arrange leisurely strolls to neighbouring villages or a visit to Nyaung Shwe town for exploration and handicraft shopping. In the afternoon we will transfer back to the Heho Airport for the flight to Yangon, where the rest of your day will be at leisure.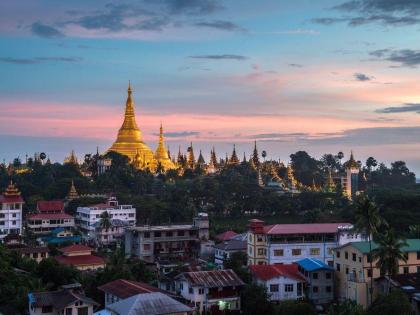 Included: Accommodation Yangon, Airport Transfers, Flight Ticket Heho – Yangon & English Speaking Guide
Meals: Breakfast
---
Day 8: Yangon – Sittwe – Mrauk U
Rise and shine, a morning pickup from our Yangon hotel take us to the airport once more and subsequently, by flight to Sittwe.
From there, we will transfer to the jetty for a private boat cruise along the Kaladan River to Mrauk U. Depending on river conditions, the journey will take approximately 4-7 hours, leaving you to enjoy the river cruise before we check-in at your hotel in Mrauk U.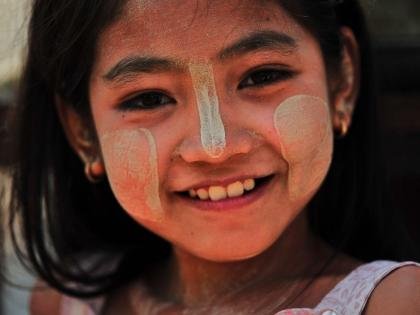 Included: Accommodation Mrauk U, Flight Ticket Yangon – Sittwe, Boat Cruise & English Speaking Guide
Meals: Breakfast
---
Day 9: Mrauk U
After fuelling up on breakfast for the day, we will start our sightseeing at Mrauk U, the capital city of the 15th century Rakhine Kingdom. We will have a busy morning darting off to the city market for a taste of local city life before we visit Pharaouk Pagoda, Mong-Khong-Shwe Du Stupa, Pess Paya, Koe Thaung Temple's 90,000 Buddha images, the artificial lake at Latt-Say Lae and the museum-like Sandamuni Monastery. We then head back to the hotel for a rest.
In the afternoon, we will visit the huge Chit-Thaung Temple and its 80,000 images and reliefs of Buddha, the four-sized Htaukkhan-Thein Temple, the locally named Plate Pagoda at Laungbanprauk Pagoda, a small library at Pitakataik and finally a tranquil sunset from Harritaung Hill with which to wrap up our day.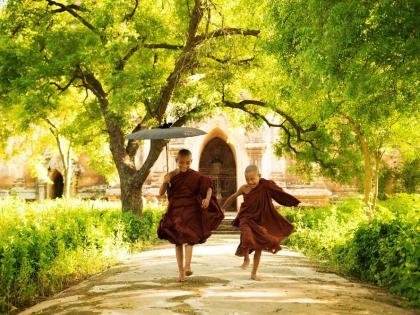 Included: Accommodation Mrauk U, Tour & English Speaking Guide
Meals: Breakfast
---
Day 10: Mrauk U – Sittwe
After a scrumptious breakfast, we hit the pagoda trail once more, visiting Sakyamanaung Pagoda, Ratanamanaung Pagoda, Mingalamanaung Pagoda and the Nann-Oo Buddha image.
We then head back to our hotel to check out and transfer to the jetty to take the boat back to Sittwe, enjoying lunch on the boat while enjoying river views. Upon our arrival in Sittwe, we will transfer to our hotel for an overnight stay.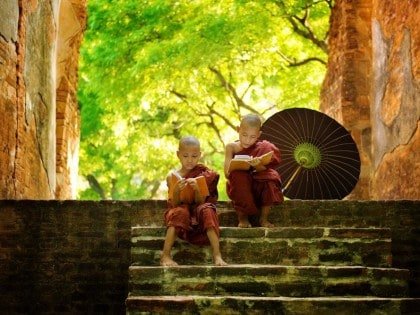 Included: Accommodation Sittwe, Tour & English Speaking Guide
Meals: Breakfast
---
Day 11 – Sittwe – Ngapali Beach
After breakfast, our first stop for the day is a visit to the fish market of Sittwe. We then head to Payagyi Temple with its golden faced Buddha image. After that, we will also visit the Mahakuthala Monastery, Lawkarnadar Pagoda and the Sakyamuni Buddha Image before we transfer to the airport for a flight to Thandwe. We will then transfer to a resort hotel on Ngapali Beach where we will spend the night.
Included: Accommodation Ngapali Beach, Tour, Transfers & Flight Ticket Sittwe – Thandwe
Meals: Breakfast
---
Day 12: Ngapali Beach
Breakfast is served, but today you are free to enjoy at your own leisure on the pristine beaches of Ngapali. Relax in the shades of palm trees by the beach, or if you are feeling energetic, you can visit the colourful market at Thandswe (Sandoway). You can also bike through coastal villages or hire a boat to fish or sail, overlooking the stunning Rakhine Hills in the backdrop.
Included: Accommodation Ngapali Beach
Meals: Breakfast
---
Day 13: Ngapali Beach
Today is free and easy. Relax and enjoy your last full day in Myanmar. The stretch of sparkling white beach is perfect for long romantic walks!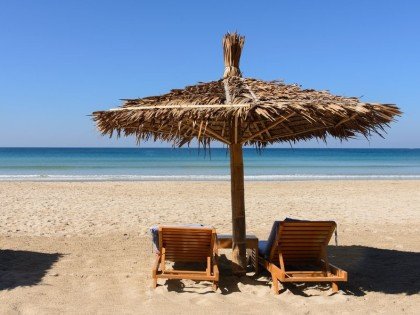 Included: Accommodation Ngapali Beach
Meals: Breakfast
---
Day 14: Departure Ngapali Beach – Yangon
After your last hotel breakfast in Myanmar, the morning is free at your own leisure until we transfer you back to the airport for your flight back to Yangon. Here, we will either transfer you back to your hotel in Yangon or to the new international airport terminal for your departure flight from Myanmar.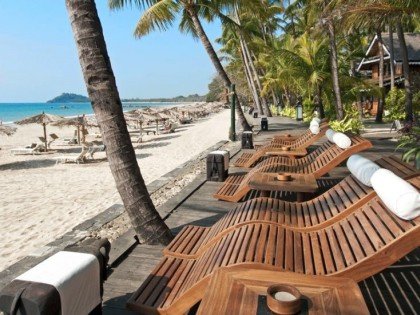 Included: Airport Transfer Ngapali & Flight Thandwe – Yangon
Meals: Breakfast
Luxury – Best Accommodations – Private Tours & Guide.
| Date | USD per Adult |
| --- | --- |
| 01 Apr – 30 Sep | On Request |
| 01 Oct – 31 Mar | On Request |
Superior – 3-4 Star Accommodations – Van & Guide sharing
| Date | USD per Adult |
| --- | --- |
| 01 Apr – 30 Sep | On Request |
| 01 Oct – 31 Mar | On Request |
*Estimated based on min. 2 travellers.
Tour Include
 Tours and transfers with air conditioned vehicles as specified in our itinerary
 All entrance fees to the sites mentioned in the itinerary
 Domestic air fares
 Transfers & tours with English speaking guides.
 Lodging with breakfast as specified in the itinerary
Tour Excludes
Meals that is not listed
Drinks
 Personal Expenses
Flights
Tips