Myanmar's Golden Rock: A boulder balanced by a single strand
The Golden Rock is the third most important Buddhist pilgrimage site in Mon State, Myanmar, after the Shwedagon Pagoda and the Mahauni Pagoda. Tourists, pilgrims, and worshippers flock the sacred site to see how a great boulder seems to defy the laws of gravity and precariously balances itself on the edge of a 25-foot cliff atop Mt. Kyaiktiyo, while a 20-foot tall pagoda is perched on top of it. The mountain's name, Kyaik-htiyo, translates to "Pagoda on a Hermit's Head." The rock that appears to be gold is actually a granite boulder that is covered with gold leaves applied to the rock by Buddhist devotees.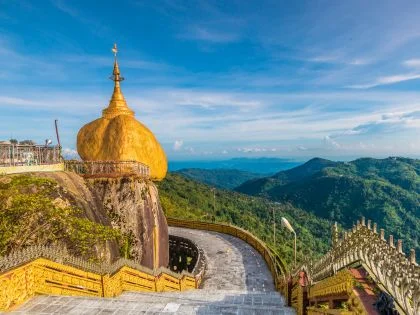 According to legend, the great granite boulder is kept in place by a single strand of Buddha's hair that he himself gave to Taik Tha, a hermit, during one of his visits. This hermit tucked the strand of hair in the tuft of his own hair, safely bringing Buddha's strand to his king. The hermit instructed that his gift be enshrined under a rock shaped like the hermit's head. Fortunately for the king, he had inherited supernatural powers from his father Zawgyi, a proficient alchemist, and his mother, a serpent dragon princess. With his parents' help, they found the rock, which would complete the shrine, at the bottom of the sea. The king had a ship constructed to carry the rock to the top of the mountain. It is this strand of hair that, according to legend, stops the rock from tumbling down the hill. The boat, which was used to transport the rock, had turned into stone, which explains why the pagoda looks a bit like a ship is enshrined in the complex.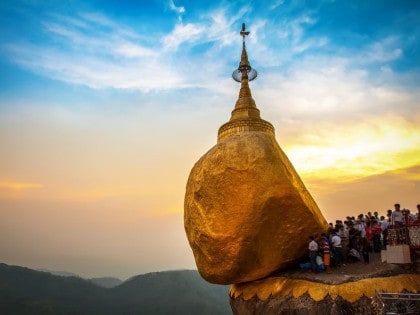 With its magnificent weight perfectly balanced on the edge of a cliff, the Golden Rock is truly a natural and extraordinary sight, which is why it is regarded with such sacred astonishment. The scenery from the Golden Rock is spectacular and many visitors stay to watch the sunset. The Kyaiktiyo shrine complex consists of several viewing platforms, pagodas, and Buddha shrines. Devotees gather in the area behind the rock to pray and make offerings, and almost everyone attaches a golden leaf to the rock as act of merit. A glimpse of the fascinating Golden Rock is believed to be enough to inspire and enlighten any person to turn to Buddhism. Also, according to legend, Pilgrims who trek the base camp three time consecutively in a year will be blessed with wealth and respect.
---
Popular Myanmar Packages